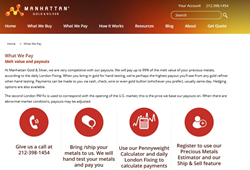 Manhattan, New York (PRWEB) May 19, 2015
Manhattan Gold & Silver (MGS), a B2B precious metal refiner in New York City's Diamond District, launched a mobile friendly-redesign of its website in April.
The new website features a modern, responsive web design that allows it to display clearly on any size screen – from smartphones to desktops. Additionally, it improves the functionality of the original site, including up-to-the-minute precious metal prices, interactive charts for historic precious metal prices and payouts, and digital resources for precious metal market enthusiasts – like apps, calculators, and conversion charts.
Manhattan Gold & Silver (MGS) started as a small, family-owned operation in 1985 and has grown into one of the country's leading precious metal refining firms. Over the years, it has stayed true to its family roots. The core team—who hand-sorts metals for quicker onsite transactions and gives price quotes to potential customers—has remained unchanged since the company's inception. MGS serves all types of businesses with refining needs by processing metals from all types of applications. MGS clients are typically jewelers, pawnbrokers, dentists, or any number of industrial firms that produce precious metal byproducts as a result of the work they do—such as silver scraps left over after photographic processing, jewelers polishing material, medical devices and apparatuses, etc. MGS works with platinum, gold, palladium, and silver.
With onsite melting and assaying facilities, clients can be assured of a quick transaction for any amount of precious metals. With exchange rates set daily to the London Fixing, clients are also assured a fair price. Aside from being a major sponsor of the New York State Jewelers Association, Manhattan Gold & Silver is also active in the community and philanthropic giving – sponsoring many local charity events and organizations.