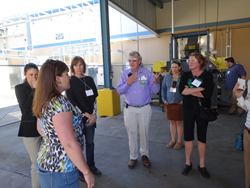 Companies will benefit from this proven approach to guide their organization beyond recycling to Zero Waste
Rocklin, CA (PRWEB) May 15, 2015
To support companies in saving money, becoming more sustainable and getting certified, Sierra College Center for Applied Competitive Technologies (CACT) and the U.S. Zero Waste Business Council (USZWBC) will offer Zero Waste training on June 8 in Lincoln, CA, near Sacramento.
Register at http://www.uszwbc.org/; the rate for the full day is $199 and morning session with lunch is $99; add $50 to the registration fee after May 15. There are other discounts for USZWBC members and for more than two people per organization attending.
USZWBC developed the Zero Waste Business Associate (ZWBA) training to help businesses achieve Zero Waste, and to guide them in achieving facility certification according to the USZWBC Scorecard Certification System.
The training begins with an introduction to Zero Waste, tour of the sustainability programs at Rogers Family Coffee Company in Lincoln CA, and a hands-on waste audit exercise. The afternoon session will provide information on USZWBC certification for individuals and facilities. The full day class is a requirement for qualifying for Zero Waste Business Associate (ZWBA) certification.
Participants will learn how USZWBC Zero Waste certifications work according to trainer, Gary Liss. "During the workshop, attendees will see the steps they can take right away to start eliminating wasteful practices and save money," said Liss. "Companies will benefit from this proven approach to guide their organization beyond recycling to Zero Waste."
Zero Waste is an approach being used successfully by manufacturers, according to Carol Pepper-Kittredge, CACT Director, Sierra College. "Businesses can reduce expenses and generate revenues by handling waste more effectively as well as become better corporate citizens," said Pepper-Kittredge. "Globally competitive companies benefit from making their processes more efficient and working toward Zero Waste as part of sustainability plans."
For registration, please visit the U.S. Zero Waste Business Council website: http://www.uszwbc.org/.
About Sierra College CACT
Sierra College Center for Applied Competitive Technologies (CACT) is focused on Advanced Manufacturing and is funded through the Workforce and Economic Development program of the California Community College Chancellor's Office. Since 1992, the Sierra College CACT has provided customized training for organizations, manufacturers and technology companies throughout Northern California. Additional information is available at http://www.sierracollegetraining.com/.