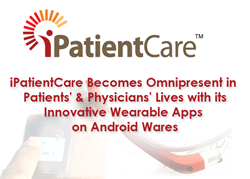 iPatientCare wearable technologies like miWatch and miGlass are an excellent extension of the electronic medical record, which would act as catalyst to promote wellness. It empowers the physicians and patients... -Kedar Mehta, CTO at iPatientCare
Woodbridge, NJ (PRWEB) May 15, 2015
iPatientCare, Inc., a pioneer in mHealth and cloud-based ambulatory EHR and integrated Practice Management solutions becomes omnipresent for Patients' & Physicians' lives with its innovative wearable technologies and Android Ware SmartWatch based App named "miWatch" recently to improve the Medication Adherence and the Level of Patient Engagement.
iPatientCare miWatch app is designed uniquely for empowering patients as well physicians with different useful functionalities. Kedar Mehta, CTO at iPatientCare wonderfully showcased the workflow functionality for providers and patients. miWatch is designed for providers to ease their practice management by reminding about appointments, Rx-refill requests, Labs/Test results, unread messages, and much more. miWatch, for patients is a boon as it includes a very handy access to reminders for medication adherence, appointment with doctors, provides alerts and notifications from patient portal, maintaining better patient engagement.
iPatientCare demonstrated its Patient Engagement suite at HIMSS15. Among the products most attracted the attendees were the mHealth apps, Google Glass, Android ware watch, and Patient Self Check-in Kiosk.
Wearable Apps on Android Wares are composed to play an important role in future medicine. Keeping up with iPatientCare's tradition of adopting futuristic technologies, Kedar Mehta says, "iPatientCare wearable technologies like miWatch and miGlass are an excellent extension of the electronic medical record, which would act as catalyst to promote wellness. It empowers the physicians and patients, both, by delivering the right information at the right time, wherever they are. Wearable devices are always on you, and hence it greatly reduces chances of missing an important notification."
About iPatientCare:
iPatientCare, Inc. is a privately held medical informatics company based at Woodbridge, New Jersey. The company's unified product suite includes Electronic Health/Medical Record and integrated Practice Management/Billing System, Patient Portal/PHR, Health Information Exchange (HIE), and Mobile Point-of-Care Solutions for both Ambulatory and Acute/Sub-acute market segments. iPatientCare has been recognized as a preferred MU partner by numerous Regional Extension Centers (REC), hospitals/health systems and academies, and has been designated as a Test EHR by the CMS.
iPatientCare EHR 2014 (2.0) has received 2014 Edition Ambulatory Complete EHR certification by ICSA Labs, an Office of the National Coordinator-Authorized Certification Body (ONC-ACB), in accordance with the applicable eligible professional certification criteria adopted by the Secretary of Health and Human Services (HHS).
IPatientCare Inpatient EHR 2014 (2.0) Received ONC HIT 2014 Edition Complete EHR Certification from ICSA Labs, determines ability to support eligible hospitals with meeting meaningful use stage 1 and stage 2 measures required to qualify for ONC Health IT funding under the American Recovery and Reinvestment Act (ARRA).
The ONC 2014 Edition criteria support both Stage 1 and 2 Meaningful Use measures required to qualify eligible providers and hospitals for funding under the American Recovery and Reinvestment Act (ARRA).
Visit http://www.iPatientCare.com for more information.