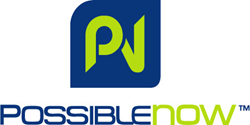 The healthcare marketplace is driven by the need for consent and is pivoting towards true customer engagement strategies.
Atlanta, Georgia (PRWEB) May 19, 2015
PossibleNOW, the leading provider of customer engagement and enterprise preference management solutions, today announced its selection by one of the top 10 global pharmaceutical providers to deliver an enterprise-wide preference management solution for consumer marketing and customer satisfaction efforts. The partnership comes on the heels of similar projects for two of the top 10 healthcare insurance providers as well as healthcare management and delivery leaders.
"The healthcare marketplace is driven by the need for consent and is pivoting towards true customer engagement strategies," said Scott Frey, President and CEO of PossibleNOW. "We're at the center of that shift by virtue of our unique ability to plan and execute enterprise preference management initiatives. Our expertise, coupled with our groundbreaking technology, make PossibleNOW an attractive partner for healthcare companies facing vast and complex marketing challenges."
Within the pharmaceutical marketplace, differentiating communications between consumers on-drug and consumers considering-drug can mean significant revenue gains. Moreover, health insurance providers are greatly improving marketing ROI by providing paperless preference opportunities for Explanation of Benefits (EOB) materials and other mandated communications. Finally, it's vital that multi-national companies comply with both domestic and international regulations related to consent for healthcare providers and patients, a multi-faceted challenge in the European marketplace.
As pharmaceutical, health insurance and healthcare service providers add complexity to their offerings for the consumer marketplace, investments are being made in multi-channel marketing, consumer-friendly interfaces and sophisticated privacy protections. But in order to see real gains in engagement, the process by which a company builds loyalty and earns long-term returns on its marketing dollars, these companies are also building new listening and learning capabilities through preference management. Equally important, as more consumers rely on mobile devices to get information, providers must comply with the requirement to obtain expressed consent prior to sending commercial messages to a mobile device. PossibleNOW designed its preference management technology to handle express consent as well as consumer preferences.
Preference management – the active collection, maintenance and distribution of unique consumer characteristics, such as product or topic interest, communication channel preference and desired frequency of communication – is the centerpiece of PossibleNOW's services to its growing healthcare client base.
About PossibleNOW
PossibleNOW, headquartered near Atlanta, Georgia, enables businesses to build lasting, profitable relationships with customers, partners and employees through preference management technology. MyPreferences®, our enterprise preference management platform, empowers companies to listen to and learn from their customers through the active collection and management of preferences such as product interest, channel preference and frequency of communication. MyPreferences easily integrates into existing applications such as CRMs and marketing databases. The MyPreferences platform's flexibility, security and compliance protections make it ideal for serving as the central repository for customer data inside the enterprise and for minimizing regulatory compliance risk. For more information, call (800) 585-4888 or (770) 255-1020, e-mail info(at)possiblenow(dot)com or visit http://www.possiblenow.com.