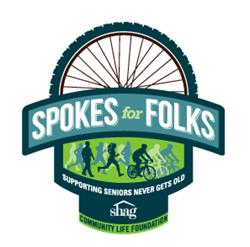 Seattle, WA (PRWEB) May 15, 2015
Participants will start and finish the celebration at the Tukwila Community Center at 12424 42nd Ave S, Tukwila, WA 98168 and enjoy scenic bridges, rivers and greenways with views of Mt. Rainier along the way.
On-site registration opens at 7:30 am with heats for the riders, walkers and runners beginning at 8:00 and the last half mile walk beginning at 11:00. The community celebration, lunch, prizes and fun follow at noon until 2pm, with KOMO TV emcee Cayle Thompson at the microphone. To register, go to http://www.firstgiving.com/s4f/spokes2015.
Options include a 40-mile and an 8-mile round trip course for bikers, runners and walkers, and a half-mile Fun Loop for walkers and wheelers. Others may want to support SHAG by attending the event to volunteer or to cheer on the participants. All are welcomed to help raise funds on behalf of seniors and the Community Life Foundation's work to help seniors stay independent and able as long as possible.
For more information, please visit http://shag.org/s4f/.
The Senior Housing Assistant Group (SHAG) is a 501(c)(3) non-profit operator of Low Incoming Housing Tax Credit (LIHTC) affordable senior and family apartments. Founded in 1988, its mission is to enhance and enrich the lives of its residents through affordable housing.
Contact:
Joyce Robertson, joycer(at)shag(dot)org 206-760-1093