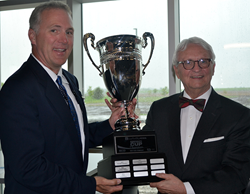 We invest in the health and wellness of our employees because they are our greatest asset. ~ Larry Jansen
Grinnell, Iowa (PRWEB) May 15, 2015
Grinnell Mutual Reinsurance Company was presented with a prestigious Live Healthy Iowa traveling trophy on Thursday, May 14. The award recognizes Grinnell Mutual as having the highest percentage of eligible employees who began and finished Live Healthy Iowa's 10 Week Challenge among mid-sized businesses (251 – 1,000 employees). Iowa Sports Foundation CEO and Executive Director Chuck Long presented the trophy to President and CEO Larry Jansen.
"Grinnell Mutual strongly supports the Live Healthy Iowa program. Our company's commitment to the wellness of our employees is something I personally believe is very important," said Jansen. "We invest in the health and wellness of our employees because they are our greatest asset."
At Grinnell Mutual, 386 employees on 52 teams began the challenge on January 26 to track their weekly activity minutes and weight for 10 weeks, with more than 80 percent completing the challenge on April 3. During that time, participants collectively recorded 17,682 hours of activity time. Grinnell Mutual has been a top finisher in the Corporate Cup Challenge for the last two years – winning the cup in 2013 and taking second place in 2014.
About the Cup Challenge
Since 2012, Live Healthy Iowa has been awarding companies, communities and schools for their participation in the annual 10 Week Wellness Challenge through the Cup Challenges. This year 222 companies, 17 communities and 9 schools competed for the honors.
2015 Corporate Cup Winners:
Small Company (workforce of 50-250): Spencer Municipal Utilities
Mid-sized Company (workforce of 251-1,000): Grinnell Mutual Reinsurance Company
Large Company (workforce of 1,000+): Meredith Corporation
2015 Community Cup Winner: Allamakee County
2015 K-12 Cup Winner: Mid-Prairie Community School District
The full list of results for the 2015 Cup Challenges can be found at http://www.livehealthyiowa.org.