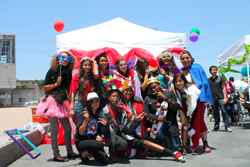 P.S. ARTS' mission is to improve the lives of children by providing arts education to underserved public schools and communities
Lawndale, CA (PRWEB) May 18, 2015
The TakePART Art festival will be held on Saturday, May 30th, from 10:00am - 2:00pm at Leuzinger High School (4118 Rosecrans Avenue, Lawndale, CA 90260). The free, family-friendly event will include hands-on art activities, a student art exhibition and dance, music, and theater performances. An estimated 2,000 attendees are expected throughout the day including students, families, and community leaders from across the Centinela Valley region.
HISTORY:
The TakePART Initiative was launched in 2010 as a collaborative effort to facilitate active resource-sharing across neighboring school districts in an effort to implement comprehensive arts education programs to communities throughout the Centinela Valley region, which represents 20,000 students. Facilitated by P.S. ARTS with major support from The Herb Alpert Foundation, the TakePART Initiative is a collaboration between arts and community organizations, philanthropic partners, and five school districts (Centinela Valley Union High, Hawthorne, Lawndale Elementary, Lennox, and Wiseburn). The TakePART Initiative provides music, theater, and visual arts programs for students in these five participating school districts; this model ensures that students have equal access to quality arts opportunities and enter middle and high school prepared for advanced study in the arts. For more information about the TakePART Initiative, please visit http://www.takepartinitiative.org.
THE EVENT:
The TakePART Art Festival is an annual event collaboratively hosted by the TakePART Initiative partners to celebrate arts education in public schools. The free, family-friendly event features creative work by students across school districts from the Centinela Valley, including dance, band, and vocal performances, a student gallery of multi-media work, and hands-on arts activity booths hosted by local organizations. This year's festival will include a costume photo booth, visual art projects from numerous groups (including Yoobi, Arts for LA, and the Broad Stage), facilitated drumming and dancing, and a special instructional performance by The Music Center.
MISSION:
P.S. ARTS' mission is to improve the lives of children by providing arts education to underserved public schools and communities. It is the only organization in Southern and Central California that provides yearlong arts education in dance, visual arts, music, and theater arts to every child in a school during the regular school day. Each week, P.S. ARTS serves 20,000 students in 10 school districts and 50 public schools. For more information, please visit http://www.psarts.org.