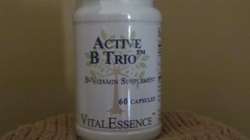 B vitamins keep the body running like a well oiled machine. The powerful combination of B vitamins found in Active B Trio play a critical role in brain and nervous system function, homocysteine metabolism, and nucleic acid synthesis
Orland Park, Illinois (PRWEB) May 17, 2015
"B vitamins keep the body running like a well oiled machine. The powerful combination of B vitamins found in Active B Trio play a critical role in brain and nervous system function, homocysteine metabolism, and nucleic acid synthesis," began Barbara Griffin, NMD, CNC, Certified Gluten Practitioner, and director, Vital Health, Inc.
VitalEssence Active B Trio supplies activated forms of vitamin B12 (methylcobalamin), folate (L-5-methyltetrahydrofolate) and vitamin B6 (pyridoxal 5'-phosphate) for enhanced absorption and bioactivity. These are particularly important for those with the MTHFR genetic mutations.
Dr. Griffin explained, "B vitamins are found in plant and animal food sources. Many people do not eat enough fruits, vegetables, or other healthy foods to get the recommended amounts of B vitamins. Additional, as we age our bodies our bodies do not easily absorb vitamin B 12. Some digestive disorders, including inflammatory bowel disease and Crohn's disease, may not absorb enough vitamin B12."
VitalEssence B Trio Includes:
1. Provides vitamin B12 methylcoblamin: Vitamin B12 is crucial to the formation of healthy red blood cells, energy production, nervous system support, cognitive function, and homocysteine regulation. Vitamin B12 as methylcobalamin is a "body-ready" form with the metabolic benefits that may not be provided by other forms of vitamin B12.
Dr. Griffin added, "Homocysteine is an amino acid and breakdown product of protein metabolism that, when present in high concentrations, has been linked to an increased risk of heart attack, stroke, Alzheimer's, depression and chronic fatigue syndrome. Blood levels tend to be highest people who eat a lot of animal protein and consume few fruits and leafy vegetables, which provide the folic acid and other B vitamins that help the body rid itself of homocysteine."
2. Supplies an active form of folate: This B vitamin is critical for generating red blood cells, regulating homocysteine metabolism, assisting DNA repair, and supporting neurological processes. L-5-methylterahydrofolate (L-5-MTHF), an active form of folate, is included in this product to help ensure more immediate effects on metabolism compared to folic acid, the form of folate commonly used in fortified foods and supplements.
"L-5-MTHF is the predominate form of folate. L-5-MTHF is the reduced, metabolically active form of folate that occurs naturally in foods and is the primary form of folate found in the blood and tissues. As a result, it is far more effective for people who have or are prone to a folic acid deficiency," explained Dr. Griffin.
3. Contains the active, coenzyme form of B6: Vitamin B6 is necessary for many aspects of health including protein and amino acid metabolism, red blood cell formation, normal brain function, and synthesis of antibodies important for optimal immune responses.
Dr. Griffin shared, "The coenzyme form of B6 found in VitalEssence Active B Trio is readily usable, as it does not require further transformation in the body. Individuals most at increased risk for vitamin B12, folate and vitamin B6 deficiency are the elderly, vegetarians, and individuals with ulcers, Crohn's disease, and bacterial overgrowth."
VitalEssence B Trio is free of the following common allergens: milk/casein, eggs, fish, shellfish, tree nuts, peanuts, wheat/gluten, corn, yeast, and soybeans. Vital Health, Inc. recommends talking to your healthcare professional before beginning any nutritional regime.
About Vital Health, Inc.:
At Vital Health, Inc. Dr. Griffin integrates a whole body approach with the intention of facilitating wellbeing and optimal health amongst her clients. Dr. Griffin's specialties include: traditional naturopathy, nutrition, EAV Meridian Stress Assessment, Food Sensitivity Screening, Environmental Screenings, Iridology, SKASYS, Live Blood Cell Analysis as well as established integrative therapies such as Neuroemotional Therapy, Neuromodulation Technique, Cold Laser and clinician for Spectracell Laboratories, Inc. Vital Health, Inc. is located within the office complex of the Orland Park Crossing, 14225 S. 95th Avenue Suite 409, Orland Park IL, 60462. 708-226-1131. http://www.vitalhealth.org