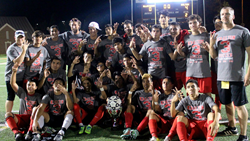 I can't imagine soccer season without a turf field, Our Shaw Sports Turf field has made a huge difference.
Dalton, Georgia (PRWEB) May 18, 2015
On Friday, the Dalton High School Catamounts soccer team won their third consecutive Georgia state title with a little help from Shaw Sports Turf.
The team, which is the nation's top-ranked high school team by MaxPreps and the National Soccer Coaches Association of America, has amassed a record of 64-0-1 over the past three years. They have outscored their opponents 367-31 during that period, with 41 shutouts.
This year, the Cats were 20-0 and outscored their five postseason opponents 32-0.
That amazing record came with a lot of talent and a lot of hard work on the practice field.
"I can't imagine soccer season without a turf field," said Matt Cheaves, Head Coach. "Our Shaw Sports Turf field has made a huge difference."
While the Catamounts play their home games on a city-owned grass field, they practice at the high school, which has a synthetic turf field.
The team frequently plays teams that play on synthetic turf, so it helps to practice on turf.
"I like practicing on the Shaw Sports Turf field and I even like the football lines on the field," said Cheaves. "It helps us set up distances and spaces. Turf is faster and truer, so as it relates to player skills, turf tells the truth."
Cheaves also said the team utilizes the field for practice as a result of inclement weather.
"With all the rain and snow we had earlier this year, we would have had a hard time getting our season going if it weren't for the field," said Cheaves.
The field features Shaw Sports Turf's PowerBlade Bolt system. Bolt is a stronger, more resilient monofilament fiber, featuring a lightning bolt shape which creates a stronger vertical axis that causes fibers to stand upright for less breakdown and increased durability. Bolt is specifically built for performance and to reflect light for a lower luster and more natural looking field.
"Our PowerBlade Bolt system is the perfect match for the speed and amazing skill of the Dalton High soccer team," said Jim Watts, Territory Manager with Shaw Sports Turf. "We are proud that it has proven to be such a great resource for such a great team."
The Catamounts lose six seniors who haven't lost a game in three years. However, it's been said that the Dalton JV team may very well be the second best team in the nation. So, with a lot of practice and dedication on the school's Shaw Sports Turf field, look for a fourth consecutive state championship in 2016.