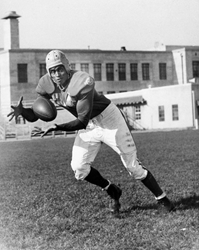 This year we are especially honored to induct posthumously another pioneer, Woodrow Wilson Woolwine "Woody" Strode
Binghamton, New York (PRWEB) May 19, 2015
The American Football Association's Hall of Fame selection committee has completed its annual task of reviewing personal profiles of qualified individuals nominated for induction into the Semi-Pro/Minor League Football Hall of Fame as the "Class of 2015". Information submitted by HOF alumni and subsequent review by the selection committee resulted in the selection of 16 people for enshrinement this year.
This year we are especially honored to induct posthumously another pioneer, Woodrow Wilson Woolwine "Woody" Strode (July 25, 1914 - December 31, 1994). "Woody" Strode was born in Los Angeles, California. He attended Thomas Jefferson High School in South East Los Angeles and college at UCLA, where he was a member of Alpha Phi Alpha fraternity. He was a decathlete and football star who went on to become a popular and pioneering African-American film actor. He was nominated for a Golden Globe award for Best Supporting Actor for his role in Spartacus in 1960. He served in the United States Army during World War II.
Strode, Kenny Washington and Jackie Robinson starred on the 1939 UCLA Bruins football team, in which they made up three of the four backfield players. Strode and fellow UCLA alumnus Kenny Washington were two of the first African-Americans to play in major college programs and later the modern National Football League, playing for the Los Angeles Rams in 1946. All three had played in the semi-professional Pacific Coast Professional Football League earlier in the decade.
This year's group of AFA Hall of Famers will be enshrined as the "Class of 2015" during the AFA's 35th Annual Semi-Pro/Minor League Football Hall of Fame Induction Dinner at the Pro Football Hall of Fame, 2121 George Halas Drive NW, Canton, Ohio 44708. The induction dinner will be part of a 2 day event for the AFA National Association, which will run from Thursday, June 25th thru Friday, June 26th. This is our third year at this venue and this year's event promises to be even better.
Events Scheduled:

Sports & Celebrity Memorabilia Auction
Annual AFA HoF Legends - meet the new inductees "Alumni Huddle Cocktail Party - 7pm Thursday, June 25th
Pro Football Hall of Fame Tours at your leisure
35th Annual AFA Semi Pro/Minor League Football Hall of Fame Induction Dinner - 7pm Dinner (Cocktails 6pm) Friday, June 26th.
The American Football Association is proud to present the names of those who will be enshrined into the AFA Semi-Pro/Minor League Football Hall of Fame as the "Class of 2015" (names in parentheses indicate sponsors of the new inductees):
Pioneer Category:
"Woody" Strode - Los Angeles, CA (Keith Ballard)
Officials Category:
Joe Friers – Ballston Spa, NY (Bill Higgins)
Coaches Category:
Dale Glossenger – Denton, NC (John Burns, Jim Nugent)
Phil Pompeo – SeaTac, WA (Wes Fischer)
Pedro Trevino – Racine, WI (Jordan Kopac. Chris Pivovar)
Player Category:
Jack Ball - Villa Pack, IL (Fred Robinson, Pat Sharpe)
Chris Hughes - Scott Depot, WV (Steve Moser)
John Brennan - Charlestown, MA (Larry DeVoe)
Bobby Hitz - Chicago, IL (Gary Thomas, Neal Anderson, Larry Schmidt, Ben Ward, Roman Strzala, Jerry Schropp)
Jack Zusy - Burton, OH (Dennis McElligott)
Doug Black - Watertown, NY (George Ashcraft)
Joseph Brumfield - Chambersburg, PA (Charles E. Johnson, Chad Fauson)
John Speidel - Lowell, MA (John Zafaris, Dave Bonsell, Brent Bordenkircher)
Walter Thiel - Oak Park, IL (Simeon Hendrickson, James Kulton, Gene Larsen, Ron Hansen)
Charles Mitchum - Waterford, NY (Dave Fleck, Tom Manny, Mike Galeo)
Mike Malatino - Johnstown, NY (Bob Bean, Rick Sager)
The enshrinement of this year's class of 16 new hall of famers will see the association's 34-year total number of inductees expand from 709 members to 725 members. Since the inaugural enshrinement in 1981 (including the Class of 2015) the AFA has recognized 427 players; 106 coaches; 87 executives; 31 officials; 25 pioneers; 20 media/historians; 13 trainer/equipment men; 6 associated with youth football; 5 involved with international semi-pro; 4 from the women's level; and even 1 'super fan'.
Tickets are $100 each for the 2015 AFA Semi Pro/Minor League Football Hall of Fame Induction Dinner. If interested in ordering dinner tickets, please email amerfoot(AT)aol.com for an order form. The deadline for ticket orders is June 6th.
As part of our event fundraiser, we are soliciting sponsors. Sponsors and donors will be acknowledged during our live hall of fame webcast, receive a listing in our souvenir program and will be posted on our event banner. Just click any of links below:
Hall of Fame Banquet Sponsorship
AFA Hall of Fame Online Auction Fund Raiser (click here)
2015 AFA Sponsor Listing (click here)
2014 Media Archives:
2014 Hall of Fame Induction Dinner Brochure
2014 Hall of Fame Photos
AFA Hall of Fame 2014 Video