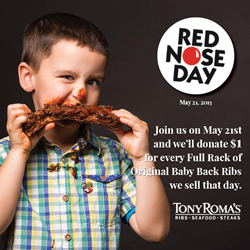 Tony Roma's welcomes families and children into our restaurants in communities throughout the world every day, and the well-being of those children is incredibly important to us, which is why we want to help
Orlando, Fla (PRWEB) May 19, 2015
Romacorp, Inc., the parent company of Tony Roma's, announces its support of Red Nose Day on May 21, a day dedicated to transforming the lives of children living in poverty. For every full rack of world-famous baby back ribs sold at Tony Roma's restaurants in the US on May 21, the company will donate $1 to the Red Nose Day charities.
"Tony Roma's welcomes families and children into our restaurants in communities throughout the world every day, and the well-being of those children is incredibly important to us, which is why we want to help," said Jim Rogers, Chief Marketing Officer. "We hope our guests will put on the famous Red Nose, enjoy our signature baby back ribs and TR's Original™ BBQ sauce, and join us in supporting the work of this wonderful charity."
Originally started in the United Kingdom, this is the first-ever Red Nose Day to be celebrated in the United States. It's a day that encourages people to use fun and laughter to raise money for children living in poverty throughout the world. The money donated on Red Nose Day will be distributed to nonprofit organizations in the US, Africa, Asia and Latin America whose missions are to help children.
About Romacorp, Inc.
Romacorp, Inc., is the parent company of Tony Roma's restaurants, the world's largest casual dining concept specializing in ribs. Headquartered in Orlando, Florida, Romacorp, Inc. has more than 150 restaurant locations in more than 30 countries and is one of the most globally recognizable names in the industry. The first Tony Roma's restaurant opened more than 40 years ago in North Miami, Florida.
Romacorp, Inc. also operates their new TR Fire Grill concept, a chef-inspired American bistro in Orlando, Florida with an additional location planned the summer of 2015 in Winter Park, Florida.