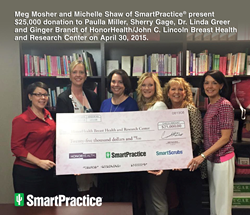 This gift [from SmartPractice] will help us continue to provide lifesaving programs and services as well as fund critical research.
Phoenix, Arizona (PRWEB) May 27, 2015
Continuing its commitment to finding a cure and supporting a mission of healthier patients in the community, SmartPractice® donated $25,000 to HonorHealth Breast Health and Research Center (formerly John C. Lincoln). SmartPractice Vice President of Human Resources Meg Mosher and SmartScrubs Director of Sales Michelle Shaw presented a $25,000 check to Paulla Miller, Sherry Gage, Dr. Linda Greer and Ginger Brandt at HonorHealth's Breast Health & Research Center on April 30. The center is located at 19646 North 27th Avenue in Phoenix.
"We are grateful to SmartPractice for their extremely generous support of our Breast Health and Research Center," says Ginger Brandt, Major Gifts Vice President of John C. Lincoln Health Foundation. "This gift will help us continue to provide lifesaving programs and services as well as fund critical research."
This is the second donation SmartPractice has made to the Breast Health and Research Center. After touring the center last year, the SmartPractice team knew it wanted to contribute to the meaningful work the center is doing. Each donation was made possible by a percentage of sales from SmartPractice's Pink Ribbon products.
SmartPractice is a local, family-owned company passionate about its mission for Healthier Practices, Healthier Patients. It has proudly served medical, dental and veterinary professionals for more than 40 years. SmartScrubs, a part of the SmartPractice family of companies, offers the industry's leading technology and service for launching and managing group uniform programs. To learn more, visit smartpractice.com/pinkribbon, smartscrubs.com or call 800.522.0800.
HonorHealth is the new name of the combined health system of Scottsdale Healthcare and John C. Lincoln Health Network that joined forces in October 2013. The mission of locally-owned HonorHealth is to be the partner of choice as it transforms healthcare for our communities. HonorHealth is comprised of Deer Valley Medical Center, John C. Lincoln Medical Center, Scottsdale Osborn Medical Center, Scottsdale Shea Medical Center and Scottsdale Thompson Peak Medical Center. The combined organization has $1.6 billion in assets, 10,500 employees, 3,700 affiliated doctors and 3,100 volunteers. Visit honorhealth.com to learn more.