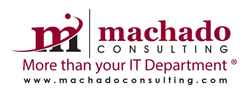 Worcester, MA (PRWEB) May 27, 2015
Machado Consulting, Inc., a Veteran-owned small business and a leading provider of IT and cloud services to small and mid-size organizations in central New England, today announced exceptional growth during 2014.
In 2014 Machado Consulting grew 61 percent over 2013. The company is averaging over 58 percent growth over the past three consecutive years highlighting the company's operational excellence, its ability to bring revenue growth to the bottom line and its recognition among one of the top IT vendors in the area.
The momentum at Machado Consulting is in alignment with the United States Commerce Department in that the economic gains for small businesses across America are growing. In December, Secretary Penny Pritzker of the U.S. Commerce Department stated that "Today's job numbers are great news for the American people, and proof that efforts to get the economy back on track are working, we have now added more jobs in 2014 than in any full calendar year since the 1990s, and we are seeing positive trends across all sectors of our economy, from employment to exports to housing." In addition to promoting two current long standing employees, Machado Consulting has also increased its workforce by 50 percent during the last twelve months. The company plans to hire additional employees through 2015 to support its growth.
"Machado Consulting has had tremendous growth over the past year, demonstrating why we are the one of the leading technology and cloud service providers in the area," said Helder Machado, Machado Consulting President and CEO. "We are focused on building on our past and current success and will continue to provide our customers with the very best technology services and support."
Helder, a Lieutenant Colonel, in the Massachusetts Army National Guard says that the will to achieve and the positive ideals that he has lived by have been the foundation of Machado Consulting since day one. It is the reason his company and his team are as successful as they are; at the end of the day it crosses over to the client, it is the client who experiences the highest level of dedication and customer service that Machado Consulting provides.
Machado Consulting offers its clients a wide portfolio of IT services, including desk-top support, cloud, virtualization, disaster recovery, security, email, and hosted offerings. In order to provide industry-leading services and exceptional support.
About Machado Consulting
Machado Consulting is a Veteran Owned Small Business (VOSB) that fuses industry-best practices with award-winning technologies to provide premiere technology solutions to small-to-midsize businesses (SMB) across the country in the areas of networking, data backup/recovery, customer relationship management, service desk management, and a host of additional customized software and hardware solutions. Machado Consulting also sells and supports leading technology brands such as HP, Cisco, Microsoft, Xerox and Dell. For more information, please call (508) 453-4700.