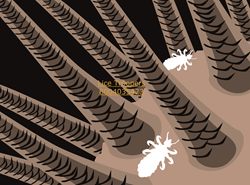 ...over the counter treatments only worked in 25 percent of cases.
Miami, Florida (PRWEB) March 17, 2016
In February 2016, Fox News reported 25 states experienced outbreaks of "Super Lice," which have grown resistant to many over the counter head lice treatments.
Resistance is to blame. In the same way that bacteria have evolved to defend themselves against antibiotics, resulting in the need for increasingly potent pharmaceuticals, head lice have evolved to resist the pesticides designed to eradicate them, says Lice Troopers. These "super lice" and their nits are nearly unfazed by the common drugstore treatments. According to a February 2016 report by KSDK, over the counter treatments only worked in 25 percent of cases. This has sent frustrated parents looking for the head lice removal method that is guaranteed to be effective.
Though the CDC continues to recommend these products and scientists continue to develop stronger chemicals, many parents are realizing that these chemicals, which will then have to be applied to the sensitive scalps of young children, may not be the answer. The alternative has been the all-natural home remedy, which, for many parents, will involve covering their child's head in mayonnaise, olive oil or some other condiment found in the pantry. These treatments, however, are also ineffective.
Lice removal companies like Lice Troopers offer a chemical-free method that works. Treatment, performed by professional lice removal experts, involves meticulous and thorough combing. Since even one bug or nit left behind can launch a new infestation, technicians are careful to make sure all traces of the parasite are eradicated.
About the company:
Lice Troopers is the all-natural, guaranteed Head Lice Removal Service™ that manually removes the head louse parasite safely and discreetly in child-friendly salon settings, or other chosen location. Providing safe solutions for frantic families, the Lice Troopers team has successfully treated thousands of families nationwide, with services widely recommended by pediatricians and reimbursed by many major health insurance carriers, flexible spending accounts, and health savings accounts.
Lice Troopers serves families from its three Miami area treatment centers: 2109 Le Jeune Rd., Coral Gables, FL 33134; 1005 Kane Concourse, Suite 212, Bay Harbor Islands, FL 33154; and 5735 Hollywood Blvd. Hollywood, FL 33021. The team also provides house calls and school screenings.