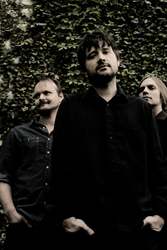 The indie music track was an immediate sensation around the globe, amassing a staggering 9.9 million YouTube views.
NASHVILLE, TENNESSEE (PRWEB) May 19, 2015
In direct response to the viral success of the official video trailer for "Dragon Age: Inquisition" - winner of over 130 Game of the Year awards - Peermusic artist, The Phantoms, released a new, special remix of their popular song, "Into The Darkness – Dragon Age: Inquisition Mix," worldwide May 12, 2015. An immediate sensation around the globe within the first 24-hours of the video's release, hundreds of thousands of gamers demanded a full-length music track, while pushing the original promotion to a staggering 9.9 million YouTube views.
BioWare, a studio of Electronic Arts, initially tapped Music Agency Groove Guild - working with music supervisors Al Risi and Mike Boris - to find the perfect song to enhance the "Dragon Age: Inquisition" video trailer. Already a fan of rising rock band The Phantoms, Groove Guild turned to Peermusic for a fresh track, and was immediately impressed and inspired by The Phantoms' demo version of "Into The Darkness." All three companies worked directly with The Phantoms bandleader and composer, Andrew Simple, to customize it for the groundbreaking gaming project. The end product has resulted in over 9.9 million views on YouTube to-date – a viral feat that is as incredible as it is impressive in the gaming arena.
Always at the forefront of today's music pulse, Peermusic is proud of the continued success of premier songwriting talent, Andrew Simple, whose record of national and global commercial placements by Peermusic reads like a Rolodex of top names in film, TV and brands. Simple's trio project, indie rockers The Phantoms, showcases the songwriter's strong production instincts and edgier side: an artistic vehicle that has already met with critical acclaim as a stand-alone act.
Jerome Spence, Peermusic's Senior Creative Director, Film and TV, stated, "What a great project to be a part of! We're thankful to the BioWare team for giving us the opportunity to showcase one of Peermusic's most exciting bands, The Phantoms. In addition to The Phantoms' successful commercial accomplishments, our writer Andrew Simple's custom work has become highly demanded in commercials, Television and Film Trailers."
In meeting the high demand for a fresh, fully produced track, Peermusic, the world's largest independent music publisher, has actually disrupted the traditional gaming universe working with one of the top gaming dynasties in recent history, Dragon Age. Less than 24-hours after the music single dropped in the US, multi-national fans of "Into The Darkness" expressed their anticipation online again, when the new "Inquisition Mix" release was slightly delayed in their countries.
Fans are invited to visit the official website for The Phantoms: The PhantomsMusic.com, for the latest information, giveaways, and a new video specifically made just for fans of Dragon Age. Press kits including a current biography, hi-res images, music samples, and HQ Video Trailers are available by request. Requests for interviews, appearances, and photo ops should be directed to The Phantoms' via email: thephantomsrawk@gmail.com. Bloggers with credentials and members of the press may request a copy of the forthcoming CD for review.
ABOUT PEERMUSIC:
For over eighty years after establishing its first copyright, Peermusic can still proudly claim to be a major independent music publisher. From its founding under the keen vision of legendary music producer Ralph S. Peer, Peermusic has consistently and relentlessly broken new ground by becoming home to some of the best and brightest talent in music. The company boasts a diverse repertoire ranging from pop to Latin to country to classical and employees working in 32 offices in 28 countries around the world.
Peermusic proudly represents songwriters as diverse as Hoagy Carmichael, Jimmie Davis, Perez Prado, Buddy Holly, Donovan, David Foster, Morten Lauridsen, Tricky Stewart, Ester Dean, Family of the Year, Dead Sara, Prince Royce, Niel Thrasher, Jaron Boyer ("Riot"), and joint ventures with Salaam Remi and 1500 or Nothin'.
ABOUT THE PHANTOMS:
The Phantoms began in 2011 when Peermusic-signed artist/composer Andrew Simple decided it was time to return to his Rock roots. Side-tracked by his eponymous Indie-Folk solo effort (not unlike Jack White's recent foray into the comparatively lighter side of Rock & Roll), Simple assembled a band and started writing and recording one song at a time, immediately seeing early signs of success with placements of The Phantoms' music in Film, TV, and Advertising. Recent career highlights include song placements for Windows 8, Lowes "Make It Beautiful," T-Mobile 4G LTE, New York Jets Promo, Microsoft Windows Siri, "Smoking Aces" (Film), and "S.W.A.T." (Film), and Make It or Break It (TV).
Contact:
Jerome Spence
Peermusic – North America
Office: 818-480-7000