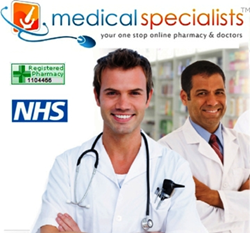 The staff have worked tirelessly to get these results, we make sure our website has relevant, up-to-date and in-demand products, delivery is maintained at a 24 hour turnaround time for UK orders...
Bury, Lancashire (PRWEB UK) 20 May 2015
While many businesses around the country are unfortunately feeling the strain of declining sales and less consumer spending, Medical Specialists® Pharmacy – a member of the Greater Manchester Chamber of Commerce - are delighted to announce a sales increase of 17% from the previous 6 months, in comparison to the same period from the year prior.
Medical Specialists® Pharmacy Managing Director David Bailey commented: "The staff have worked tirelessly to get these results, we make sure our website has relevant, up-to-date and in-demand products, delivery is maintained at a 24 hour turnaround time for UK orders, and the fact that almost every patient review on the website has scored us 5/5 confirms the quality of service we are delivering."
On 10 March, The Guardian reported how data from Kantar Worldpanel had showed that supermarket giant Asda had suffered a continuing sales performance dip that had reached its worst level in more than two decades, with the Walmart-owned chain experiencing a sales decrease of 2.1% in the three months before 1 March, linked to a mini-resurgence of Tesco and the rise of discount stores such as Aldi and Lidl.
Meanwhile, on 6 May, The Guardian's website described how Sainsbury's (Britain's third biggest supermarket chain), had posted what is a first annual loss in ten years, after a drop in sales and write-downs on the value of its property. The supermarket posted a statutory pre-tax loss of £72m for the twelve months preceding 14 March, in comparison to the £898m profit of last year. This is in addition to a massive loss of £792m for Morrison's and £6.4bn for Tesco, representing one of the biggest losses in Britain's corporate history.
The sales surge at Medical Specialists® has been a bit of a shock to all the staff at the Bury-based online pharmacy. The pharmacy is on the rise though, always looking at ways to expand and has been dispatching its products worldwide for a number of years, but had expected nationwide job losses and other factors to potentially impact on business and revenue…however, it seems this has not been the case!
In the last year alone, Medical Specialists® have moved forward in a variety of different ways to cater for their tens of thousands of patients to make the whole ordering process a much simpler, more efficient process.
Late in 2014 the pharmacy began to offer some of their over-the-counter products on online retail mammoth Amazon, and subsequently experienced an influx of patients ordering through their website (http://www.medical-specialists.co.uk) that had initially bought items from their Amazon page, such as breath sprays, condoms, nasal rinses and much more.
Then, on 26 March of this year – as reported on the Chamber of Commerce– Medical Specialists® launched a mobile version of their website to cater for the thousands of patients using a mobile or tablet device. The streamlined mobile site has resulted in a much faster and more pleasant browsing experience for new and existing patients, with excellent feedback received about the boosted efficacy of the entire ordering process and navigation around the website.
On top of all this, the pharmacy's Marketing Department struck a deal with a global PR software and services company, which means people from all around the world now have better access to their News Team's stories and articles, due to the fact they are now published on hundreds of websites across the web.
Unfortunately, it seems many other businesses are struggling to grow in the current financial climate. To some degree, it could be argued that Britain is continuing to feel the effects of the 2008-2009 recession, with the economy still in a delicate recovery phase. Prime Minister David Cameron and returning Chancellor George Osborne will now both continue where they left off from their last term and look at ways of reducing the UK deficit. In fact, the UK's public sector net debt at the end of December 2013 was estimated at a staggering £1,254.3bn or 75.7% of GDP.
There is a possibility that this massive amount of debt could be inadvertently passed on to the public one way or another, through company-forced redundancies, budget cuts, etc. This has been particularly and some might argue harshly felt in Manchester. Of all councils in England, the city has been hit with the eighth highest cut per resident in regards to spending power – equating to a decrease of approximately £311.94 per head.
"Times ahead are challenging for Britain's 'Second City' and 'Capital of the North', but Medical Specialists® continues to fight through the storm and emerge bigger, better and more successful than ever", said David Bailey.