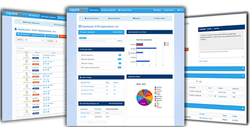 "We've been getting nothing but great feedback from our customers. They really appreciate the new responsive design and user interface". said Stephanie Polanco, AcquireTM Customer Product Support Specialist
Las Vegas, NV (PRWEB) May 21, 2015
EON Applications, Inc., a leader in providing innovative talent acquisition and applicant tracking software designed for small and mid-size organizations, announced the successful release of AcquireTM 2015.
AcquireTM 2015 is the latest version of its online talent acquisition and applicant tracking system. AcquireTM 2015's unique offering provides a complete talent acquisition solution, including applicant tracking, employee on boarding and background screening, seamlessly integrated. Now, like larger organizations, both small and mid-size companies will have the same ability to leverage the advantages of managing their hiring process through a single platform.
Completely redesigned, AcquireTM 2015 utilizes the most advanced web technologies available including HTML5 and is completely optimized for mobile use. Now, with AcquireTM 2015's responsive design, users can access the system across any device. This is especially important as more companies collaborate during the hiring process. For example, busy hiring managers can use their smart phones or tablets to easily view an applicant's profile or respond to an interview request. Applicants as well can now view positions and apply right from their phone.
Along with the new user interface and responsive design, AcquireTM 2015 includes a number of new features and improvements designed to add value and improve the hiring process for their customers. "We are very proud of AcquireTM 2015", said Jason Barnett, EON Applications/AcquireTM's CIO and co-founder. "Building out Acquire on this new platform, while challenging, positions Acquire to take advantage of a host of new technologies becoming available, and will provide the flexibility for the new ways our users are accessing and using our solutions."
EON Applications, Inc. started upgrading its existing customers to the new platform earlier this year and according to Stephanie Polanco, AcquireTM Customer Product Support Specialist, "we've been getting nothing but great feedback from our customers. They really appreciate the new responsive design and user interface".
AcquireTM 2015 is now being deployed for all new customers that sign up for AcquireTM's monthly cloud based subscriptions services. Those interested in learning more or accessing a demo, can do so at http://acquiretm.com/demo-request.
About EON Applications, Inc.
EON Applications, Inc. is a leader in developing business solution software for small and mid-size companies. EON continues to bring forward the latest software developments and solutions, providing the answers for the issues facing business today. EON Applications philosophy is simple, design software that makes the things you do everyday easier.