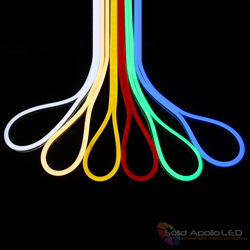 Neon LED Strip Light is an amazing light bringing the vivid colors of Neon Light while being safe and easy to handle, with energy savings and a long lifespan
Seattle, WA (PRWEB) May 20, 2015
Solid Apollo LED introduces new Neon LED Strip Light bringing the amazing look and feel of Neon Lighting without the issues of traditional Neon Light. Neon light brings a bright distinctive fluorescent glow in a variety of colors to easily add a unique look to any area whether indoors or outdoors. Neon LED is easy to use and is perfect for architectural lighting, from highlighting specific features or placed around the entire perimeter of a building.
Neon light is easily recognized for the distinctive and vivid colors made by Neon gas and to reproduce this incredible effect with LED, a unique plastic polymer cover is sealed over the LED strip to create the vivid Neon lighting effect. Neon LED Strip Light projects a wide 180 degree angle of light and is flexible and fully dimmable for the exact brightness setting desired. Neon LED Strip Light is also easy to modify in the field as cut points every 20 inches can be cut with simple scissors and configured with accessories and waterproofing glue for a durable long-lasting waterproof light.
Neon LED Strip Light comes in six amazing colors, including warm white (3100K), white (6000K), red, green, blue and yellow, to create dramatic displays of lighting. The Neon LED Strip from Solid Apollo is available in lengths as short as 20 inches and as long as 165 feet all running off one single plug using standard household 120V AC power.
By using Neon LED Strip Light, the dangers of using traditional Neon light are eliminated. Neon light fixtures are fragile permanent fixtures containing small amounts of Mercury. The Neon tubes can become hot and they utilize high voltage, up to 15,000 volts, to create the fluorescent light. The shape of a neon light fixture cannot be altered and replacing broken sections can be difficult and some times more cost effective to purchase an entirely new fixture. A typical Neon light lasts around 30,000 hours and can experience issues with flickering and can even emit an annoying high pitched tone under normal circumstances.
Neon LED Strip Light solves these issues by using safe LED lighting creating the look and feel of actual Neon light. "Neon LED Strip Light is an amazing light bringing the vivid colors of Neon Light while being safe and easy to handle, with energy savings and a long lifespan" stated Manuel Barquin, CEO of Solid Apollo LED. Neon LED Strip is a flexible design with similar benefits of LED strip light, with cut points every 20 inches, a long 50,000 hour lifetime, and a flexible design which can be moved and altered as needed. The Neon LED Strip emits a continuous linear line of light evenly across the cut points for uninterrupted vivid lighting and is rated at IP67 for waterproof outdoor use. The Neon LED strip will never emit any noises like Neon and does not contain any harmful chemicals or gases.
Neon LED Strip Light can be placed almost anywhere inside and outside without the worries of typical Neon Light. Neon LED Strip is perfect for architectural lighting, as the Neon strip is easy to mount in long straight runs around buildings small and large and can be placed on unique architectural features, such as awnings and along stairs for eye-catching Neon lighting.
Neon LED Strip Light even works great indoors as the safe durable design and never hot to the touch surface can go almost anywhere. Use Neon LED Strip Light in the entertainment room such as along the walls and around the pool table, or around the children's bedroom for unique and exciting lighting. Neon LED Strip can even be placed around the home theater, around the arcade or in casinos for easily recognizable neon look but with the safety and flexibility of LED Strip. Neon LED Strip even looks great around the restaurant and bar for unique and noticeable lighting. And by using multiple Neon LED colors, recreating team or company colors is simple without the need for extensive installation and customization of typical Neon lighting.
Neon LED Strip Light is also available with a variety of accessories to easily create unique lighting even when gaps and tight bends are required. Joiners for adding on extra Neon LED Strip and endcaps are available to fully seal and waterproof custom lengths of Neon LED Strip Light.
About SolidApollo.com: Solid Apollo manufactures and distributes a wide range of LED lighting products and solutions and offers a 30 day money back guarantee, free shipping on orders over $150, and excellent customer service.