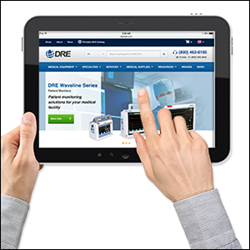 Louisville, Ky. (PRWEB) May 21, 2015
DRE Medical — a leading medical equipment distributor — is pleased to announce the launch of a new website, redesigned for enhanced usability.
"The new dremed.com utilizes the latest web design tools to offer our customers a unique, streamlined way to shop for new and refurbished medical equipment," said Justin Jeffries, Vice President of Marketing & IT for DRE.
DRE Medical's new website is optimized for use on desktop computers, tablets and smartphones, allowing customers to conveniently browse the company's wide selection of new and refurbished medical equipment options.
The rebuilt cart system is simple and straightforward, and customers can now shop for both medical equipment and supplies in one convenient location. DRE offers accessories and disposables to accompany a variety of capital equipment types including anesthesia machines, defibrillators, electrosurgical units, patient monitors and ultrasounds.
Customers can also take advantage of the new resources tab, where they can find a medical glossary, manufacturers directory, medical trade show calendar and an all new medical equipment video library.
The new website features an upgraded About section, where potential customers can meet DRE Medical's friendly sales staff and biomedical team members and read up on the company's facility planning services.
Explore the new dremed.com today, and discover all that DRE can offer your facility.
About DRE Medical
Since 1984, DRE has worked to be a single supplier for all major operating room equipment and surgical equipment. Inc. magazine named DRE to its annual Inc. 5000 list of the nation's fastest-growing companies for three consecutive years. DRE, Inc. is based in Louisville, Ky.