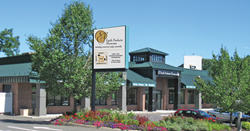 "They bring a wealth of knowledge to our clients that these market areas require and the sales skills they demand...
Torrington, CT (PRWEB) May 22, 2015
Jo-Anne Passarelli-Urena and David Klipstein have joined O&G's inside sales team where their expertise in masonry products and customer relations will assist in expanding the retail sector the news was announced today by Anita Goerig, Director of Marketing. In their roles as Sales Professional, they are responsible for building new and strengthening existing relationships in O&G's luxury Earth Products Showcase showrooms in Middletown and Stamford, respectively.
Growing up in a family excavating business Passarelli-Urena brings a strong working knowledge of masonry product and services to O&G. In addition to her work with Passarelli & Son, Inc., she worked as a sales agent for O&G for fifteen years selling architectural stone. Urena has a Bachelor of Science degree from Quinnipiac University in Accounting.
Klipstein has over 30 years of masonry sales experience, product and application knowledge and customer service expertise. He has worked in numerous mason companies throughout New York and New England. He has an Associate of Science degree from Mitchell College in Human and Social Services.
Under the guidance of Kara Oneglia, Assistant Vice President they are responsible for showroom sales and developing customer relationships. "They bring a wealth of knowledge to our clients that these market areas require and the sales skills they demand, we are happy to have them join our team," remarked Kara Oneglia.
About O&G Industries Masonry Division
Since its inception in 1923, O&G Industries, Inc. has grown to become one of the most diversified construction companies in the Northeast and one of the largest suppliers of masonry products and services in New England. Headquartered in Connecticut, the masonry division's facilities include:

Sales professionals work with professionals and homeowners alike where the scope of the plans ranges from commercial to residential projects. Customers receive expert consultation from staff that guide clients through the widest selection of earth-based material available to meet design specifications and budgets. Earth Products Showcases offer professionals and homeowners a place to view elegantly appointed vignettes from classic to contemporary in design. For more information about O&G Industries Masonry Division, please call toll-free 1-800-862-3533 or navigate to O&G's website and social media pages that feature special offers, raffles, ideas, projects and the latest news. Ask for a copy of O&G's luxury lifestyle magazine Stylish Spaces with Masonry.