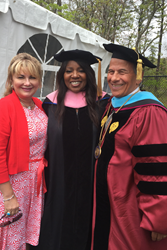 Gloria Gaynor Survives and Thrives with Honorary Doctorate of Music.
New York, NY (PRWEB) May 20, 2015
Legendary performer and global superstar, Gloria Gaynor, gave the keynote speech and received an honorary degree of doctor of music at the May 16th Dowling College 53rd Commencement Ceremony held at the Brookhaven Campus in Long Island, New York. The Queen of Disco spoke to the graduating class about the importance of protecting one's character and championing those too weak to protect themselves. Work hard, be fair in your dealings with others and be certain that every one of your relationships has a basis in integrity and respect the people you meet from your own culture and others. Gloria is not a stranger to the rigors of a university course load. While maintaining her regular touring schedule taking her to several continents for concert performances each year, she completed her studies in Behavioral Sciences receiving her Bachelor's Degree. This is part of Gloria's goal of being able to better support and work with charities and organizations that help at-risk youth and their families.
A GRAMMY Award winning recording artists whose career spans the past forty years, Gloria Gaynor's career has never lost momentum. She has had hit songs in the music charts in all four decades and has achieved global stardom and musical recognition.
Her book, "We Will Survive: True Stories of Encouragement, Inspiration, and the Power of Song", was just released at the end of 2013. The remarkable stories in this book reveal that the song, "I Will Survive," has reached people from all walks of life and touched their lives in thousands of unique ways. From individuals triumphing over illness to those suffering from the painful loss of a loved one to others piecing their lives together after bearing witness to a national tragedy, "I Will Survive," has become an emotional anthem for them and for millions of Gloria's adoring fans around the world. Gloria's audio recording of the book was nominated for a 2015 GRAMMY Award for Best Spoken Word Album. She was a featured presenter at this year's GRAMMY Awards and the headliner at the award's official after party, The GRAMMY Celebration.
She has been spending time in Nashville, TN collaborating with several producers, including three-time GRAMMY Award winning songwriter, producer, Christopher Stevens.
Says Gaynor, "'I Will Survive,' should remind us to be proactive in this world. In trying times, people are always looking for answers and direction of what to do and where to go next. So is it really so hard to believe that 'I Will Survive' has more relevance now than it did in 1979? Through this song we can relate to a woman who has faced the same struggles and summoned the strength to rise above and survive. When you are knocked down you get back up, shrug off the hit and survive – don't be afraid of the future!"
Media Contact:
Stephanie Gold, (516) 270-5661, stephaniegold(at)me(dot)com
Thom Storr, (917) 565-6157, thomstorr(at)gmail(dot)com