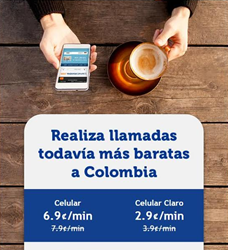 Beside Voice Credit, LlamaColombia.com also offers Mobile Recharge.
Atlanta, Georgia (PRWEB) May 22, 2015
LlamaColombia.com has great news for everyone making calls to Colombia. The international calling website now offers more affordable rates for mobiles in this country. With LlamaColombia.com, calls to mobiles in Colombia are now as low as 2.9¢/min.
Rates have never been better! Calling a Claro mobile now costs 2.9¢/min while the rate for all the other mobiles is lower as well: 6.9¢/min. Calls to these destinations used to cost 3.9¢/min for Claro and 7.9¢/min for the other networks. The rates for landlines stay the same: 1.5¢/min for Cali, 2.9¢/min for calling any other city, and 8¢ for SMS.
LlamaColombia.com offers a wide variety of calling options to suit every need. Customers can call from:
1. any phone through the use of local or toll free access numbers;
2. any computer through the Web Call application;
3. any smartphone as LlamaColombia.com offers a free app for both iOS and Android devices, called KeepCalling.
Beside Voice Credit, LlamaColombia.com also offers Mobile Recharge, a service through which customers can recharge mobile phones anywhere in the world. The process is fast and secure and the credit reaches its destination instantly. The mobile operators available for recharges to Colombia are Claro, Tigo, Movistar, Uff Móvil, Virgin Mobile, Avantel, ETB, and UNE.
What differentiates LlamaColombia.com from other services are the low prices offered, the frequent promotions, the simple ordering processes, and the safety of online transactions. What makes the service even more attractive and trustworthy are the comprehensive Help Center and the 24/7 Customer Service, available by phone, chat, and email in both English and Spanish.
LlamaColombia.com guarantees 100% transaction security and satisfaction. All major payment methods are accepted: Visa, MasterCard, American Express, Discover and PayPal. Moreover, payment is available in several currencies: US, Australian, or Canadian Dollars, British Pounds, and Euros. The payment security system is known as very strong.
On review websites, customers point out the low rates and high quality of the service. One of them says "Best service for the money. I have been using Llama Colombia for some time with great success and no complaints. I highly recommend it."
To find out more about LlamaColombia.com's newest offers, customers are invited to follow their Facebook page at Facebook.com/LlamaColombia.
About LlamaColombia.com:
LlamaColombia.com is an interactive website designed by KeepCalling, a global telecommunications company registered in 2002 in USA. Presently, KeepCalling provides its services to hundreds of thousands of consumers and businesses, with a focus on customer satisfaction. KeepCalling has been listed by Inc 5000 in top 20 telecom companies in the USA for the last 4 years. In 2014 the company was designated the 18th fastest growing company in the telecommunications industry in USA with a revenue increase of over 600% from 2010 to 2013.