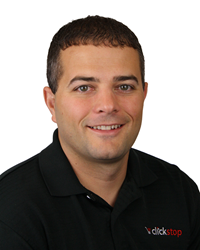 "Our impressive pace is a true testament to our company culture and to the exceptional people who work here," Guenther said
Urbana, Iowa (PRWEB) May 20, 2015
The Corridor Business Journal (CBJ) recognized Clickstop as a top 25 Fastest Growing Company for the sixth time, making it the most featured company on the list.
Clickstop owns and operates several online retail stores, including its flagship brand US Cargo Control. The CBJ honored the company during an awards breakfast Tuesday morning where nearly 20 employees learned the company ranked #23 with a growth of 41.42%.
Clickstop debuted on the list in 2009, and has appeared a record six times in just seven years. It is also the only company to place in the top five four years in a row, ranking third in 2012 with a growth of nearly 200%.Rankings are determined by revenue growth over the three previous years.
Clickstop CEO Tim Guenther started the company in 2005, selling load securement supplies on the website USCargoControl.com. Over the past decade, the company has grown from a handful of employees to more than 120.
Two years ago, the company began assembling securement straps and other equipment for its US Cargo Control brand at company headquarters in Urbana. Guenther says continued growth has allowed USCC to expand beyond e-commerce and become a real force in the cargo securement industry.
"Our impressive pace is a true testament to our company culture and to the exceptional people who work here," Guenther said. "It's an honor to again be ranked among some of the most successful companies in our corridor community."
Clickstop will also again be recognized by the CBJ in June as one of the corridor's Coolest Places to Work.
###
About Clickstop, Inc.
Clickstop is the parent company of a suite of online retail stores based in Urbana, Iowa. Its focus on great workplace culture has landed the company multiple work environment-focused awards including two first place achievements as the Coolest Place to Work. Clickstop web properties serve diverse markets that include the moving and cargo control industry, energy efficient insulation products, and home organizing solutions. For more information visit Clickstop.com.
About US Cargo Control
US Cargo Control is a leader in cargo control industry, specializing in lifting slings, cargo control, rigging equipment and moving supplies. Focused on offering quality products, timely delivery, and outstanding service, customers can shop the company's entire line of products on USCargoControl.com.