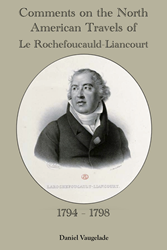 Lead translator Carolyn Yohn says, "Laincourt's comments on America promise to be an exciting addition to US scholarship."
(PRWEB) May 21, 2015
The French edition of Daniel Vaugelade's celebrated work was published in 2010. In it, Mr. Vaugelade condensed 1800-pages of Liancourt's journal entries into readable summaries of the Duke's five "voyages": 1) his journey to the Northwest and North in 1795, 2) his journey to the South in 1796, 3) a second journey through the Northeast, 4) his trip to the Federal-City in 1797, and 5) his journey to Bethlehem, Pennsylvania and New Jersey in June 1797. In the closing section of his book, Mr. Vaugelade focused on Liancourt's impression of America's character.
"Coming from French nobility and traveling with significant letters of introduction," Carolyn Yohn explains in her article, "Liancourt's narrative is a 'who's who' for late 18th century America. Yet by talking to as many people as possible, he created unbiased accounts of American trade, politics, religion, repercussions of the war, slavery, Indian affairs and other topics germane to culture in the newly United States."
Scholars have complimented Liancourt for containing some of the best descriptions available about life in late-18th century America. His impressions on the emerging American character, which appeared nearly four decades before Toqueville's, show Liancourt as a pioneer in social theory. Mr. Vaugelade presents Liancourt's analysis in five thematic commentaries under the headings of Political Life, Commerce, Land Speculation, "The Indian Problem," and American Customs and Manners.
Ms. Yohn considers Liancourt's journals more objective in their reporting and easier to read than Tocqueville's celebrated work. Like Tocqueville, Liancourt delved into into social policy when he returned home from America. Liancourt busied himself first implementing a national-scale vaccination program. After that he helped created the education system that became France's École des arts et métiers. Ms. Yohn points out that "he is quite a significant figure in history, and his comments on America promise to be an exciting addition to US scholarship."
About Commonwealth Books of Virginia
Commonwealth Books of Virginia is a small press founded in 2009. In keeping with our motto, "Where History, Philosophy, and Art Meet," we publish historical commentaries, non-fiction narratives in History and Political Philosophy, memoirs, historical fiction, and art. Our authors write great books. We build visibility for them and their work using technology that presents them to national audiences. We connect authors and their work with opinion makers, book reviewers, and commentators. We inform affinity groups and targeted communities of readers. We produce beautiful books. Our sales team takes our books into all channels of the book trade. Readers of our books expect to expand their horizons while enjoying themselves.
About Daniel Vaugelade's Book
The English translation of Daniel Vaugelade's "Comments on the North American Travels of La Rochefoucauld-Liancourt: 1794–1798" is scheduled for release on 20 November.
Paperback Edition:
ISBN: 978-0-9909592-7-4
Library of Congress Control Number: 2014960177
Size: 5.5" x 8.5"
Pages: 468
Images: 8 (B & W)
Release Date: 20 November 2015
Retail Price: $30.00
Ebook Editions:
EPUB ISBN: Pending
PDF ISBN: Pending
Mobipocket: Pending
Release Date: 20 November 2015
Retail Price: $13.95
For more information about this and other Commonwealth Books of Virginia titles call 703-307-7715.