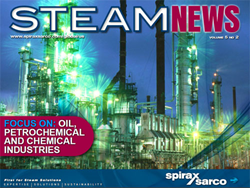 Blythewood, South Carolina (PRWEB) May 22, 2015
Spirax Sarco's May 2015 digital issue of Steam News is now available and is packed with exciting educational information about the Oil, Petrochemical, and Chemical industry.
Highlights of the issue include:

Using steam tracing for process applications – Gain an understanding about the basics of sizing and installing external line tracing.
How can U.S. refineries handle the growing glut of U.S. crude oil production? Read this article to see how refineries must now utilize the very best skills and expertise of their equipment supply partners to successfully compete and win domestic and export business.
Steam tracing keeps lube oil flowing – Discover how this Northeastern refinery decided on steam tracing as their choice for precision low-temperature control and reliable overheating protection.
Here comes summer shutdown – Get instant knowledge to help you plan your summer shutdown work program.
Understand technology drivers in O & G – Learn how and why oil and gas producers make operational decisions at production levels.
Additional content is also available including industry editorial, training opportunities, product innovations, energy saving tips, maintenance tips and much more to help improve plant production, sustainability and energy efficiency. To download the May 2015 issue of SteamNews go to: http://bit.ly/1L5zDiK.
SteamNews is a digital magazine published quarterly for plant managers, facility and operation professionals and engineers in the manufacturing industry. The goal of this publication is to provide readers with the expertise and solutions to make informed decisions as they relate to the needs of their steam system facility.
###
About Spirax Sarco, Inc.
Spirax Sarco is the world leader in steam system management. The Company provides a broad range of fluid control products, engineered packages, systems expertise and site services for its diverse range of over 100,000 industrial and institutional customers. The Company helps its customers to optimize production capacity, reduce energy costs and emissions, improve product quality and enhance the safety of their operations. Spirax Sarco has strategically located manufacturing plants around the world and employs approximately 4,700 people, of whom around 1,300 are direct sales and service engineers. Further information can be found at http://www.spiraxsarco.com/global/us.