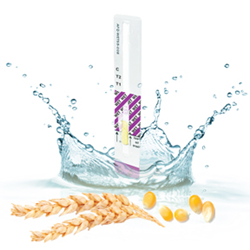 The combination of these tests offers the ability to reduce solvent use as well as provide aflatoxin detection in 26 grain commodities."
Lawrence, MA (PRWEB) May 22, 2015
Charm Sciences, Inc. is pleased to announce that the U.S. Department of Agriculture (USDA), Grain Inspection, Packers and Stockyards Administration (GIPSA) has awarded a five year contract to Charm Sciences to monitor aflatoxin in grains utilizing Charm's ROSA WET-S5 Aflatoxin Quantitative Test (water-based) and ROSA FAST Aflatoxin Quantitative Test (solvent-based).
The Charm ROSA WET-S5 Aflatoxin Quantitative Test uses Water Extraction Technology to extract aflatoxin from the sample without organic solvents. This lateral flow test takes five minutes and is GIPSA approved for 14 commodities. The ROSA FAST Aflatoxin Quantitative Test detects an additional 12 commodities.
"We are excited to be awarded this contract to support GIPSA's aflatoxin testing program," said Mark Tess, PhD, Mycotoxin Product Manager at Charm Sciences. "The combination of these tests offers the ability to reduce solvent use as well as provide aflatoxin detection in 26 grain commodities."
About Charm Sciences, Inc.
Charm Sciences is a world leader provider of food safety, water quality and environmental diagnostics. Charm's diagnostics portfolio includes test kits and systems for antibiotics, mycotoxins, pesticides, alkaline phosphatase, pathogens, end product microbial assessment, allergen control, water quality and ATP hygiene. Directly and through its network of distributors, Charm products serve the food, beverage, water, pharmaceutical, medical, personal care, environmental, and industrial markets in more than 100 countries. Customers rely on Charm products for excellence in quality, innovation and customer support.
© 2015 Charm, ROSA, and WET are registered trademarks of Charm Sciences, Inc.