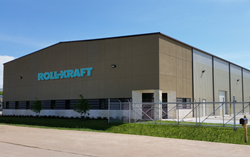 Mentor, OH. (PRWEB) May 26, 2015
Roll-Kraft is pleased to announce the official opening of its fourth location: Roll-Kraft Texas. This brand new, state-of-the-art rework facility is located at 13614 Rankin Circle, East, Houston, TX 77073.
With a 12,000 sq. ft. space that includes a truck dock for efficient loading and unloading of roll tooling, pickup and delivery service is available for customers in Texas and the surrounding area. In addition, the location is just 10 minutes from Bush Intercontinental Airport. These features make this new facility another investment that continues Roll-Kraft's commitment to being the industry leader in on-time delivery and first-time performance of tube and pipe and roll forming tooling.
The facility is equipped with top-of-the-line CNC machines from Mori Seiki and staffed by highly skilled CNC machinists who are trained in the precision reworking of all types of roll tooling. Roll-Kraft's on-going training for all machinists helps achieve a commitment to supplying tooling that works the first time, right out of the box. In addition, the Texas facility will be supported by the same highly trained engineering and sales staff that customers expect from Roll-Kraft.
This new facility will further enhance Roll-Kraft's ability to meet all of a customer's rework tooling needs, regardless of their industry, and in a wide range of roll diameters. In addition, Roll-Kraft offers in-house tube and pipe and roll forming training sessions, as well as regional training seminars to ensure a company is getting the best performance from their tooling.
Roll-Kraft has its headquarters in Mentor, Ohio, and maintains other facilities in Frankfort, Illinois (Roll-Kraft Northern), Ontario, Canada (Roll-Kraft Ltd.), and Houston, Texas (Roll-Kraft Texas). Calls to the company's main line, (888) 953-9400 or (440) 205-3100, are greeted by a live operator who can assist callers in quickly reaching a technician, engineer, or sales staff, who can provide immediate assistance. The fax number is (440) 205-3110. Learn more about Roll-Kraft by visiting the website at roll-kraft.com. For easy and immediate contact with Roll-Kraft that transcends time zones and working hours, the website features an easy-to-use contact form.