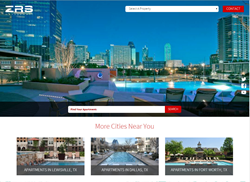 Spherexx knows how to reflect our brand; their thoughtful and intelligent design mirrors our quality & commitment. Jeremy Brown, VP Marketing, ZRS Management, LLC
DALLAS, TX (PRWEB) June 02, 2015
The new ZRSApartments.com is a fully responsive website that provides optimal viewing across multiple devices for either desktop or touch navigation. The photographic presentation is inviting, offering captivating scenes from many luxury apartment communities. Guests are welcomed by an intuitive filtering functionality that monitors where the guest is located and thereby presents the cities that are closest to the user. It also includes a filtering option where they can enter their leasing criteria: city, state, size, price range, pet information and desired moving dates.
The search feature suggests properties that meet the visitors' requirements, and visitors can further select an individual community to view. The individual websites offer motion graphics and stunning photography; all the leasing information is on a single page parallax style motif. One only needs to scroll down to see floor plans with print option, onsite tour scheduling, inline video, interactive amenity presentation, available individual units, and online application and reservation options. A guest can reserve a unit with two taps/clicks, and call the leasing team with one tap of the phone.
Reviews, Q&A, pet policy, preferred employer invitation, site plan and neighborhood mapping (with graphic or satellite views of places of interest) are available, plus move in services. Staff photos and titles are also shared so guests can more easily relate to the person at the other end of their digital communications.
Residents can engage the resident portal to pay rent and communicate with management. A user can also refer a friend, post a review and access emergency information or fill out a contact form.
ZRS and Spherexx.com have worked as a team to support the ZRS brand and day-to-day operations for a decade, launching the prior ZRSAparments.com, and later ZRSManagement.com, the company's corporate website. Both websites won Summit International Creative Awards in B2B and B2C categories. Spherexx.com provides integrations for accounting services and other providers to create seamless work flow transitions for many cloud-based software programs, including software programs by Spherexx.com.
"In choosing a management company for one of our Legacy assets, ZRS was the obvious choice," says Jared Miller, Managing Director, Asset Management and Operations Homestead Development Partners. "They do a magnificent job establishing Water's Edge as a market leader while attending to all aspects of property management with precision and detail. I wasn't surprised to hear that our new ZRS website is drawing a crowd; it is already contributing thirty percent of our leads. Thirty-nine percent of our website visits are on mobile devices. We were prepared with a responsive website for Google's mobile shift before it took place. ZRS is always able to give me concrete statistics like this because they treat our community as their own and implement the best marketing technology available. I am delighted to have such a winning team on our side."
PROSPECT ENGAGEMENT | ADVERTISING ANALYTICS | EMAIL MARKETING | PERSONNEL PERFORMANCE
ZRS adopted ILoveLeasing.com apartment customer relationship management (CRM), advertising analytics and performance software from Spherexx.com in 2007. As a result, they have a wealth of information on which advertising sources produce and those that do not. Leads and leases from identified sources are secured and analyzed by ILoveLeasing software, which repeatedly confirms their website generates more leases than any other source by far. Spherexx.com-developed websites generate more leads for ZRS annually than the top two Internet listing services combined (E.G.Apartments.com).
The program also generates advanced performance reporting and demographics on leads, so advertising expenses can be more effectively focused. ZRS also uses Emailkast from Spherexx.com for broadcast email advertising as an optional feature to ILoveLeasing.com. Emailkast allows ZRS to have control of its own lists, with safeguard alerts to support the CAN SPAM ACT.
SEARCH ENGINE OPTIMIZATION
Spherexx.com provides proprietary search engine positioning and ranking services with web traffic statistics that are more developed than Google Analytics. Each ZRS community has its own domain so targeted search results are more refined. The organic search engine strategies also enhance local and regional cross-selling across the entire portfolio. 37% of ZRS apartment communities hold page one positions for popular keyword searches, in spite of crowding created by expanding internet listing services and constant algorithmic changes in search engine programming.
Spherexx Analytics reports live traffic statistics that rival Google Analytics presentation and reporting, plus it includes 52 other search engine results for more accurate traffic counts. A recent study reports that 56% of most reported website traffic is bot hits. Spherexx Analytics has a unique filtering program that removes bot traffic and traps crawlers so that website statistics are very accurate. See SAMPLE.
When Spherexx.com developed MarketSurveyTools.com, ZRS was the first user to add it to their entourage of Spherexx.com's software as a service (SaaS) products. MarketSurveyTools.com organizes and crunches data gathered from the apartment community's competitive survey and automatically updates and expands historical trending and market comparison activity reporting in unlimited formats. It eliminates spreadsheet roadblocks and increases accuracy because of its streamlined simplicity. The program limits access, sorts reporting by region and by company, acquires aggregate data reporting and offers access to economic trends and geographic pricing. It also offers an acquisition license for due diligence marketing for prospective purchases and management contracts.
DUE DILIGENCE MOBILE INSPECTION
ZRS also utilizes Spherexx.com's Multifamily Due Diligence program to conduct acquisition inspections via Apple iPad or similar tablets. This program collects precise data from onsite inspections that cannot be lost, misfiled, or left to speculation during demanding property inspections. Each inspection can be customized to focused areas of interest and photos and videos can be included on the spot. The program creates a summary report that can be quickly crunched into a preliminary capital budget.
LEASING & MANAGEMENT TOOLS TO GO
SweetSpotDashboard.com from Spherexx keeps ZRS employees in touch with a single sign-on feature for all their cloud-based software via iPad/Tablet. SweetSpotDashboard.com also publishes alerts, lead responses through ILoveLeasing.com, response rates from email campaigns, and competitor price and features overview. This competitive information is helpful for sharing with prospects while they are making their final decision to lease. Additionally, this portable desktop offers detailed leasing information and a resident interface for collecting resident requests, inspection notes and reminders, etc. when on the go.
ZRS Management, LLC (formerly ZOM Residential Services, Inc.) is a Florida Limited Liability Company originally formed in 1991 to manage high quality multifamily communities. In 2010, ZRS Management, LLC became a stand-alone third party management company. ZRS currently manages thousands of luxury apartments for various institutional clients, partnerships, and individual owners. The company specializes in apartment & multifamily property management in Florida, Alabama,Texas, Georgia, Illinois, Virginia, and Maryland.
ZRS maintains its headquarters in Orlando, Florida with regional offices located in the following cities: Fort Lauderdale, Florida • Jacksonville, Florida • Tampa, Florida • Dallas, Texas • Chicago, Illinois • Atlanta, Georgia.
ABOUT SPHEREXX.COM® ADVERTISING AGENCY | SOFTWARE DEVELOPMENT | BUSINESS INTELLIGENCE
Spherexx.com is recognized as an established leader for website, Internet marketing and software development services since 2000. With offices located in Tulsa, Dallas, and Houston, the company has been distinguished as one of INC5000's fastest growing companies. Spherexx.com is a recipient of International Summit Creative Awards for creative and communication excellence and Internet Advertising Competition (IAC) awards for best real estate website and for outstanding websites. Spherexx.com is also a Webby Honoree and has also received W3 Video awards from the Academy of Interactive and Visual Arts for B2B branded content and promotional branding. Multi-Housing News awarded two Spherexx.com products with Technology Choice Awards: IloveLeasing for Lead Management and RentPush for Revenue Management for superior service and innovation.
Spherexx.com offers a wide selection of professional services including web design and development, touchscreen kiosks, Internet lead generation tools, online advertising, consulting, advanced mobile technology, apartment lease-up marketing consulting, and search engine performance. The company also provides branding services, video/multimedia production, print media, and copywriting, as well as website and email hosting, database solutions, pay per click, e-commerce solutions and custom programming.
The company has developed CRM (customer relationship management) products, marketing and lead generation tools that allow clients to better manage and convert leads to leases and sales and increase property values. These applications are branded under ApartmentWebsites.com™, Messagekast.com™, ILoveLeasing.com®, MarketSurveyTools.com™, RentPush.com® Revenue Management Asset Optimization and RentIntel™ Business Intelligence. Spherexx.com provides web-based prospecting, marketing, advertising management, and support services.