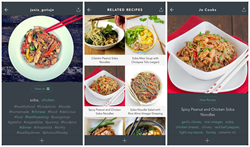 Our unrivaled Recipe Match functionality and powerful Social Food Search capabilities improve the overall value and experience that Handpick delivers to our users," stated Payman Nejati, co-founder and CEO of Handpick.
San Francisco, CA (PRWEB) May 27, 2015
Handpick, Inc., the top-rated ingredient recommendation engine and food discovery app, announced today powerful new functionality that addresses shortcomings social media users encounter with social food posts. With its newly released "Recipe Match" functionality, Handpick is the first to extend the social media browsing experience beyond liking, sharing or pinning food pictures to a more actionable pursuit of cooking. Handpick also introduced powerful "multi-ingredient" search capabilities that lets users search and discover interesting social food posts or recipes pulled from Instagram. Today's news reflects how Handpick is raising the bar by improving the user experience for home cooks, self-professed foodies, avid "foodstagrammers" and professional chefs alike.
Food is among the most frequently shared posts on Instagram, Pinterest and Facebook. According to Instagram, as of May 2015, users upload more than 70 million photos and "like" 2.5 billion posts — every day. Often users of popular social media sharing sites, like Instagram or Twitter, will see a highly appetizing picture of food that they want to cook only to find there is no associated recipe available. Now for the first time, Handpick solves this dilemma by matching similar recipes to social food posts. Instagram is the first of several social networking platforms to which Handpick plans to extend its new functionality. Handpick's new "Recipe Match" takes inspiration from an actual shared photo that presents a food dish or beverage and then matches it with a recipe or set of recipes, so users can cook something similar.
Leveraging its proprietary image recognition technology, Handpick's algorithms quickly scan the ingredient hashtags listed in the social post as well as ingredients visible in the photo itself to deliver similar recipes. Handpick's image recognition technology incorporates machine learning to accurately distinguish whether a picture within a social post is food and then what type of dish it is (beverage, entrée, dessert, etc.) in order to present comparable recipe matches.
Handpick First to Support "Social Food Search"
Instagram is arguably the biggest source of food-related inspiration and photos shared via users' social posts. Its popularity has even spawned its own hashtag vernacular (i.e., #foodgasm #foodporn, #instayum, #instagood, etc.). Yet seldom do recipes accompany the appealing pictures of #foodart that Foodstagrammers post by the millions every day.
As Instagram can only support a single-term search (i.e.: #apple), Handpick's app makes Instagram food posts more searchable and Instagrammers more discoverable with its single, multi-ingredient search (i.e.: apple, cinnamon, brown sugar, walnuts, vanilla). Handpick's distinct social food search capability gives users a better way to search and discover social posts and photos that are pulled from Instagram. Handpick's app adeptly presents results that are food and recipe-specific. On the other hand, if a user were to do a search on Instagram using #blueberry as a search term, they would have to sift through 1.8 million unfiltered results that are sorted and presented by date of submission.
"We're thrilled to help users do more with their social media activities than just like, collect or share appealing food art. Our unrivaled Recipe Match functionality and powerful Social Food Search capabilities improve the overall value and experience that Handpick delivers to our users. Each of our food dishes attributes the author of the social post, links to their Instagram page so others can like, comment or follow them, and drives traffic back to Instagram," stated Payman Nejati, co-founder and CEO of Handpick. "We plan to expand our functionality to other social media platforms but started with Instagram since it's the most popular."
Handpick was founded on the idea of reducing food waste. It solves the universal challenge of what to do with your food (whether in the fridge, freezer, or pantry) by providing dish ideas using ingredients already on hand.
The company has entered into a hyper-growth stage, becoming the largest curator of unique food inspiration and is now 100x the current largest recipe site. Handpick processes and adds 30 million new social posts to its food recommendation engine — every day. By combining big data and powerful data mining across leading social networks and millions of social media posts and hashtags, Handpick is able to continuously compile, analyze and sharpen its ingredient-pairing capabilities. Its industry-leading technology presents users with new food and ingredient pairing discoveries, enabling them to explore the world's largest collection of food, while positioning itself at the apex of social food.
Since launching on iOS in January 2015, Handpick's app has quickly risen to become one of the most popular food apps, consistently hovering within the top 15 in App Annie's Food category for mobile apps as well as in Apple's App Store.
About Handpick
Handpick is an innovative food discovery app and leading ingredient recommendation engine. Handpick provides access to the world's largest curated feed of 100 million socially shared food posts, including dishes from 1.6 million content creators worldwide. Handpick solves the universal problem of what to do with ingredients, by providing dish ideas using ingredients already on-hand, helping to minimize food waste. With offices in San Francisco, Shanghai, Hong Kong, and Manila, Handpick is building innovative technologies in social food via image recognition, big data analysis and ingredient recommendations. Handpick is backed by investors with deep experience in the food supply chain.
Editor's Note: Artwork is available upon request.
Press Contact:
Carmen Hughes
Ignite Public Relations
w: 650.453.8553
c: 650.576.6444
carmen(at)ignitepr(dot)com