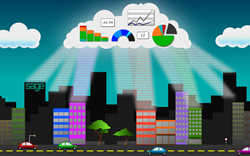 Accessing customer information on Suntico is as easy as looking up your friends on Facebook
Buford, GA (PRWEB) May 22, 2015
Wednesday 27th May
18:00 – 18:15 London
13:00 – 13:15 New York
In this Hangout on Air you will learn how you can use Suntico to grant deep but narrow access to your Sage 50 data for sales reps and sales teams.
Accounting software such as Sage 50 can be a rich source of customer information for business-to-business companies, providing insight into current issues and order history. This is invaluable to a sales rep, enabling more valuable and productive face-to-face customer meetings.
Simply granting a sales rep with direct access to Sage 50 is not typically a good solution though. Firstly, a company may not be comfortable with sharing a full list of customer and transaction information with a sales rep that could be working for a competitor next month. Secondly, accounting software packages like Sage 50 are designed to be used by members of the finance team and not the sales team. Thirdly, a sales rep often needs access to this kind of information when out of the office.
Suntico has addressed these issues by providing deep access for sales reps to information relating to specific customers only. It is a modern, web-based application that is easy to use by someone who is not a finance professional and is accessible via any smartphone or tablet computer that is connected to the internet.
"Accessing customer information on Suntico is as easy as looking up your friends on Facebook." says Hugh Johnson, SVP Business Development at Suntico. "In this Hangout on Air we will show how to use Suntico to bridge the gap between your sales reps and your Sage 50 data."
About Suntico:
Suntico is an online account management system for manufacturing and wholesale companies who value face to face contact with their customers. It includes a Facebook-like interface that makes it incredibly intuitive and is currently available for Sage 50 Accounting US (formerly Peachtree), Sage 50 Accounting Canada (formerly Simply Accounting), Sage 50 Accounts in the UK and Ireland, and Sage One (Ireland and UK).