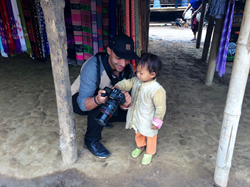 KAWSAY" A photo Gallery show about the exploration of life
New York, NY (PRWEB) May 26, 2015
Award-winning travel photographer and life coach Raul Espinoza creates photography show for a good cause. "The photography show will connect viewers to the beauty of the world while making a difference in their lives." For the last five years, Raul has traveled the world documenting lives, and then shared his pictures to convey the notion that we are not bounded by our circumstances.
"KAWSAY" means "life" in Quechua, a language spoken in Raul's native country, Bolivia. The photo gallery show by the same name will support Coney Island Generation Gap (CIGG). CIGG is a Brooklyn organization that creates possibilities for local youths to build a strong path to their futures and become leaders in their community by making a tangible difference through media.
The show is also supported by Dignity of Children, Inc., another organization dedicated to changing the trajectory of underserved youths. "Community can do anything," says director Sonia Toledo. "With Raul's artistic talent, our expertise in education, and CIGG's vision to service to the youth of Coney Island, you can expect something extraordinary."
With a common mission, these three entities plan on making an impact in Coney Island youths. Raul will be donating funds raised through the show to support CIGG's vision to create activist leaders of social change through media, technology, and art. The cost to serve one youth is $1,500. The goal of the photography show is to raise enough funds to provide 20 middle-school students the opportunity to become leaders with a bright future and make a difference in the lives of others during 2015–2016.
Show information:
KAWSAY
Drift Studio, 508 West 26th Street, New York, NY. 10001
Friday June 12th, 2015. 6:00pm – 9:30pm
Email: info(at)raulespinozaphotography(dot)com
Phone: 646 330-8038
http://www.raulespinozaphotography.com
You can make a donation today at http://www.gofundme.com/kawsay
More information on CIGG at http://www.cigenerationgap.org
As Raul says, "The world is much bigger then what we make of it. Often we are imprisoned by the way we view reality. Through this visual journey, let's evoke curiosity and invite people to explore alternative perspectives and global lifestyles."