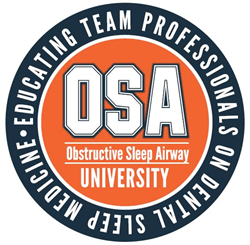 Rob has in depth industry knowledge and is extremely dedicated to promoting optimal sleep health.
Willowbrook, IL (PRWEB) May 26, 2015
OSA University announced today that Rob Suter has come on board to further develop their growing online university for dental sleep team professionals. Rob Suter has over 10 years of industry experience, having spent the last six and a half years at ResMed Corporation where he was instrumental in launching the Narval CC in the marketplace. He's also responsible for publishing various papers on sleep apnea compliance. Joining OSA University, Rob will continue his success in advocating sleep health and pursuing his passion of helping build medical-dental alliances and clinical models so that more patients can be treated.
Rob commented, "I am very excited to join OSA University because the 8 courses are in areas that I have a great deal of passion for—sleep health 101, patient engagement, case presentation and others. What I find unique is that OSA University can train the whole dental office virtually anytime, anywhere. OSA University training is desperately needed in the dental space for getting the whole team on board, minimizing training costs, boosting office morale, and most importantly, driving more patients into the treatment funnel."
Rob has spoken internationally at the AADSM, ASBA, Spear, and AACFP meetings as well as many other dental sleep conferences, training dentists on how to communicate and work together with the CPAP providers to treat more non-compliant patients. From a clinical perspective, Rob has overseen hundreds of bi-level CPAP and ventilation titrations on complicated patients at major teaching institutions. He authored a paper on wireless CPAP compliance and CPAP rescue that was published in Sleep Diagnostics and Therapy in 2010.
Elias Kalantzis, founder of OSA University said, "We're very enthusiastic about Rob Suter coming on board and for many reasons. Rob has in depth industry knowledge and is extremely dedicated to promoting optimal sleep health. In addition, our dental sleep clients are always looking to connect with local sleep labs and Rob has intimate knowledge on how these relationships are developed. We are extremely fortunate to have someone of Rob's caliber join the OSA University team."
About OSA University
OSA University is an online education platform dedicated to training dental sleep medicine team professionals. OSA-U courses are designed to optimize dental sleep medicine protocols and maximize patient success. The OSA University program consists of eight courses with specific, individual course goals and objectives. The ease and convenience of the courses allows for multiple viewing of the material and immediate education accessibility. Once completed, the team member achieves AGD accreditation and OSA-U Alumni elite status. The alumni program is designed to encourage continued dental practice success through challenges and rewards for the "team" members.
For more information on OSA University please visit OSAUniversity.org or email the university enrollment office at info(at)osauniversity(dot)org.