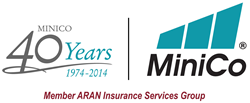 Phoenix, AZ (PRWEB) May 28, 2015
MiniCo Insurance Agency received a 2015 Award of Excellence from the Target Markets Program Administrators Association (TMPAA) as part of its fifth annual marketing campaign competition held in conjunction with the Insurance Marketing & Communications Association (IMCA). Entries were judged for both creative design and marketplace impact.
MiniCo's winning entry was a multi-part direct mail campaign with a baseball theme targeting self-storage business owners with multiple facilities in select states. Each mailing incorporated baseball-themed items to include a baseball glove, a baseball and a bag of ballpark peanuts, with accompanying graphics and a personal letter inviting recipients to contact a MiniCo underwriter to discuss the company's specialty self-storage insurance coverages. The final mailing invited recipients to contact MiniCo to receive a customized Louisville Slugger® baseball bat.
The award was presented to John LaCava, President and CEO of Aran Insurance Services Group, MiniCo's parent company, during the TMPAA's Mid-Year Meeting held May 4-6, 2015, in Atlanta.
The TMPAA was founded in 2001 and is dedicated to the unique challenges of program specialists with the goal of advancing the interests of its carrier and vendor partners. The association holds a competition for its Target Markets Program Marketing Campaign Awards, which are open to TMPAA members, in conjunction with the annual IMCA Showcase Awards.
About MiniCo Insurance Agency, LLC
MiniCo Insurance Agency, LLC, was founded in 1974 as a provider of specialty insurance products and publications for the self-storage industry. Today the company is a program administrator offering multiple specialty property and casualty insurance products for a variety of unique industries and exposures. MiniCo Insurance Agency, LLC, the parent company of MiniCo Insurance Agency of Canada, Incorporated, is a member of the Aran Insurance Services Group.