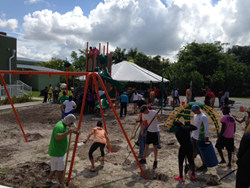 Florida City, FL (PRWEB) May 23, 2015
On Saturday, May 23, 2015, over 100 volunteers are coming together to build a new playground for Branches Florida City exactly five years to the day after the disastrous fire destroyed the former play space in 2010.
A large fire tore through the Branches United Methodist Church and the then new playground on May 23, 2010 in the middle of the night as neighbors, staff and Branches' children and families watched. The fire was later declared arson even though it is suspected that the fire began accidentally. Branches and the local community vowed to rebuild yet never imagined what the future would hold.
Thanks to hundreds of generous donors, Branches was able to raise over $3 million and build a brand new 11,000 sq. foot building for the Florida City and Homestead communites which now houses Branches' Grow and Climb children and youth programs and the United Way Center for Financial Stability of South Dade. The new facility, formally named the Trish and Dan Bell Family Branches Center - Florida City Campus, opened its doors in the Fall of 2014.
The new Branches Florida City facility was complete, yet it still needed a playground for the over 200 children and youth served here after school and during Summer Shade camp. Thanks to the Batchelor Foundation, St. Luke's United Methodist Church (UMC) and many other funders, this dream is now becoming a reality. Thank you as well to Wells Fargo for making today possible and for the kind volunteer assistance from St. Luke's UMC, Molina Healthcare and the Homestead Correctional Institute.
Branches plans to complete the build of this beautiful new playground this Memorial Day Weekend and hopes to be finished with all aspects of assembly and mulching by end of day Monday, May 25th. To volunteer or for more information, please contact Isabelle Pike at 305-206-5689 or ipike(at)branchesfl(dot)org.
About Branches
For over 40 years, Branches has made a positive impact in the community by delivering on its mission to serve, educate and inspire people through student, family and financial stability services. Branches provides long-term, holistic services for motivated individuals and families. We help people grow deeper and climb higher in life by building a foundation through education so they can achieve their goals and fulfill their potential. For additional information about Branches, please call 305.442.8306 or visit http://www.branchesfl.org.