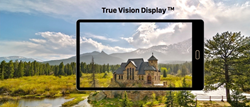 Waterloo, Ontario (PRWEB) May 26, 2015
IGNIS Innovation ("IGNIS") an emissive display technology company today announced it has secured $14 million in financing to accelerate the product development using its True Vision Display Technology ("True Vision").
IGNIS has developed industry leading technologies for emissive displays that dramatically increase yields and lifetimes while enhancing the viewer experience. This has been thoroughly tested and proven on different backplanes (Metal-oxide, LTPS, a-Si), various OLEDs (printed, RGBW, RGB, etc.) and other emissive devices. True Vision products offer users an unparalleled viewing experience that is not available on the very best of today's displays.
Today we are pleased to announce that IGNIS has engaged with partners to develop market ready products with True Vision DisplayTM for wearable, smartphone, automotive, tablet and TV applications. These products will hit the market in 2016 and will define a new standard for displays and a new era for user experience.
IGNIS Innovation is an emissive display technology company that provides total solutions for high quality emissive displays. For more information on IGNIS please visit our website http://www.ignisinnovation.com.