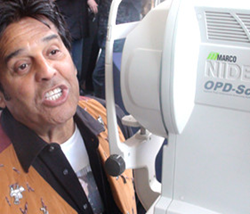 Treatment of Keratoconus is advancing rapidly.We need to spread the latest innovations,
Beverly Hills, CA (PRWEB) May 27, 2015
Khanna Vision Institute (KVI) announced the launch of a new state of the art web portal focussed on keratoconus eye disease. Keratoconus is commonly known as bulging eye disease. This relentless progressive disease has its onset in the teenage years. It worsens over the next two decades before quieting down. The cornea or the front clear part of the eye is defective. It becomes thin and unable to withstand the pressure in the eye. It results in poor vision which cannot even be corrected with glasses. Finally it may lead to rupture of the cornea and loss of vision. Better detection have found the incidence to be much higher than previously thought.
There is a silver lining to this sad narrative. Cutting edge technology have made the treatment of keratoconus possible. There are newer techniques like laser assisted intacs insertion and cornea cross linking.Many doctors and patients are unaware of these solutions.
KVI has launched a patient focussed portal to help patients and families of keratoconus eye disease. It will educate and answer patients questions in a variety of ways, Questions about affording keratoconus treatment are answered. Written text, videos, interactive tours all make learning more fun.
Rajesh Khanna, MD is the medical director of Khanna Vision Institute. He is a Keratoconus Expert. He has been helping people from all over the world in their fight against Keratoconus eye disease.