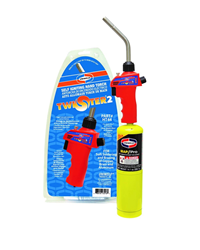 The Twister® tip has a helical blade inside that creates a swirl combustion and increases fuel velocity.
Fort Lauderdale, FL (PRWEB) August 24, 2015
Uniweld has released a new product video on the HT44 Twister®2 Self Igniting Hand Torch. It works with both Propane and MAP/Pro brand propylene and connects to the cylinder at the bottom. The brass thread insert prevents galling and cross threading when screwing the torch directly onto the disposable cylinder. Many other hand torches are made with a cast aluminum body and the threads are aluminum as well. The threads will deteriorate over time from connecting and disconnecting from the fuel cylinder.
The HT44 has a nice full sized ergonomic grip that makes it comfortable to hold and maneuver the torch. The valve on the back controls the flow of gas and there is an internal filter that protects the fuel injector from clogging. To ignite the torch, simply open the valve and pull the trigger for ignition. While holding the trigger down, the valve can be adjusted for the desired size flame. Take note that if the valve is not open enough it is possible to starve the tip which will draw the flame back and have it burning inside the tip. This can cause the tip to become red hot and can potentially burn the ignitor so it is recommended to run the torch with the valve wide open.
Uniweld's HT44 can operate in any position, even upside down to help reach those really tight work spaces and the tip can rotate 360° by simply loosening the black plastic nut and retightening when the tip is in the desired position. The Twister® tip has a helical blade inside that creates a swirl combustion and increases fuel velocity. This also makes the flame more stable in windy conditions. Releasing the trigger will turn off the torch or the trigger lock can be pushed down for a constant flame without holding down the trigger. Squeeze the trigger to release the trigger lock and turn off the torch. When the job is finished, simply close the valve, disconnect the hand torch from the cylinder and engage the safety trigger lock for safe storage. HT44 Self-Igniting Hand Torches are available for pick-up at Authorized Uniweld distributor location.
The HT44 was briefly discussed in the announcement of Uniweld's Unitorch Hand Torch Flyer along with other great hand torches from Uniweld, such as the PCV25 Pencil Flame "Economy" Hand Torch, which has an all brass construction and operates efficiently with Propane and MAP//Pro™ gas; thus providing the technician with an adjustable pencil point flame that is easy to handle and beneficial for projects such as soldering copper tubing or thawing out frozen pipes with ease.