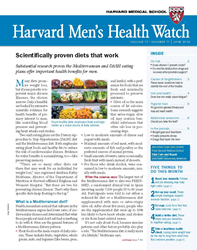 Boston, MA (PRWEB) June 24, 2015
Age-related forgetfulness, although annoying, is common and essentially harmless. Nevertheless, pinpointing its exact cause isn't always easy. But according to the June 2015 Harvard Men's Health Watch, asking some simple questions can reveal some of the reversible causes of memory problems and provide the basis for a helpful conversation with a doctor.
"Having an honest discussion about memory and getting tested may help open up discussions about other areas of health too," says Dr. David Hsu, a geriatric psychiatrist at Harvard-affiliated Brigham and Women's Hospital.
After middle age, many people start to worry that simple forgetfulness may be the harbinger of Alzheimer's disease. But sometimes the causes are more mundane. They include fatigue from an unrecognized medical condition, the effects of sedating medications, lack of good-quality sleep or regular exercise, and the effects of chronic stress.
Dr. Hsu notes that a perceived change in memory performance may simply be due to a slight slowdown in thinking speed that comes with aging. "Remembering takes a little more time, but this is entirely normal," Dr. Hsu says. Getting frustrated with memory slips won't make them stop; actually, it could make it harder to remember things.
Read the full-length article: "What's causing your memory slips?"
Also in the June 2015 Harvard Men's Health Watch:

Yoga for men
Who should be tested for an abdominal aortic aneurysm?
Weight gain and heartburn
The Harvard Men's Health Watch is available from Harvard Health Publications, the consumer publishing division of Harvard Medical School, for $20 per year. Subscribe at http://www.health.harvard.edu/mens or by calling 877-649-9457 (toll-free).
XXX