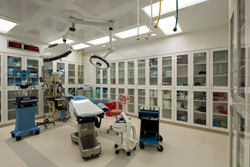 Houston, TX (PRWEB) May 28, 2015
Dr. Paul Vitenas, one of the nation's most respected cosmetic surgeons, has announced that the new Houston Surgery Center he recently opened has received AAAASF Accreditation. The American Association of Accreditation of Ambulatory Surgery Facilities awarded this accreditation to Dr. Vitenas' new state-of-the-art surgery center.
According to Dr. Vitenas, the certificate was given to the surgery center for meeting the standards of a Class C ambulatory surgery facility. This certification means the Houston Surgery Center can perform surgical procedures under intravenous Propfol or general anesthesia with external support of the vital organs.
Dr. Vitenas opened the facility in the fall of last year and relocated his Vitenas Cosmetic Surgery practice to the center. The Houston Surgery Center features three private recovery bays, two operating rooms, and 24-hour overnight stay options for those recovering from surgical procedures.
Dr. Vitenas' decision to open this state-of-the-art facility was out of a desire to better take care of his patients during every step of their experience with his practice. As the practice has experienced incredible growth throughout its 25 years in Houston, Dr. Vitenas said building the surgery center became the obvious next step for his practice. This center allows Dr. Vitenas and his staff to better focus on their core tenants of safety, quality, and service.
Located at 4208 Richmond Ave., the Houston Surgery Center also houses the Mirror Mirror boutique. Dr. Vitenas opened Mirror Mirror to be a one-of-a-kind beauty boutique with only the most modern products and amenities.
Patients visiting the Houston Surgery Center will find a full spectrum of beautification procedures offered by Dr. Vitenas. These include a wide array of breast and body procedures. He also offers a number of noninvasive injectable procedures for the face, as well as CoolSculpting, which is one of the fastest growing noninvasive techniques for removing fat from the body. Dr. Vitenas added that one of his favorite features of the surgery center is a private rear elevator for patients to use after surgery so patients can move about unseen.
Dr. Vitenas boast over 25 years of experience in the Houston area as one of Texas' top cosmetic surgeons. He is board certified by the American Board of Plastic Surgery and is a graduate of Tulane University Medical Center in New Orleans. Additionally, he traveled to Paris to complete his Craniofacial and Cosmetic Surgery Fellowship at Necker Hospital. Dr. Vitenas' highly personalized surgical style and techniques are often emulated by his peers, which has earned him a national reputation. To learn more about Dr. Vitenas and the Houston Surgery Center, please visit http://www.drvitenas.com.
Vitenas Cosmetic Surgery
4208 Richmond Ave. Suite 200
Houston, Texas 77027
(281) 484-0088