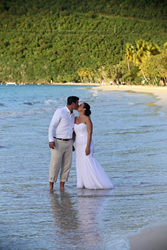 Love is in the air!
United States Vigin Islands (PRWEB) May 28, 2015
The romance of a sandy beach at sunset or a lush tropical garden make the perfect backdrop for any wedding day. Prefer a historic church or a marriage at sea? Whatever the dream, it really can come true in the U.S. Virgin Islands, one of the premier wedding destinations in the Caribbean.
Planning a wedding from afar doesn't have to be difficult. There are several island wedding planners available to manage all the details. From arrangements for flowers, photography, videography, catering and much more. Many resorts have their own wedding planner and offer a variety of wedding and honeymoon packages.
Marriage laws in the U.S. Virgin Islands are simple, but do take a bit of advance planning. There is a $100 application fee and a $100 marriage license fee. If this is a second marriage for one or both parties, a certified copy of the divorce decree from the courthouse from which it was issued or a certified death certificate is required. The Department of Tourism's website http://www.visitusvi.com offers a downloadable application that can be mailed in advance with a certified check or money order to the Superior Court of the Virgin Islands, P.O. Box 70, St. Thomas, U.S.V.I. 00804. There is an 8-business day waiting period once the paperwork is received. Licenses must be picked up in person at the Courthouse with a picture ID. No blood test is required. Judges are available to perform civil ceremonies Monday through Friday by appointment only for an additional $400 fee. Contact the Superior Court of the U.S. Virgin Islands at 340-774-6680 on St. Thomas or St. John and 340-778-9750 on St. Croix.
To learn more about the beautiful U.S. Virgin Islands check out, http://issuu.com/mediamarketing/docs/placestoexplore_2015 or visit Media Marketing, Inc. at http://www.mediamarketinginc.net. Media Marketing, Inc., the publishers of user friendly tourist guides in the VIrgin Islands - Places To Explore, the USVI Marine Guide and Places To Eat Maps.
Media Marketing, Inc. is also doing a monthly giveaway. Every month someone will win a JBL Micro Wirless Speaker, courtesy of Boolchand's St. Thomas - http://www.boolchand.com. The lucky April winner was C. Brill.
To enter this great giveaway, people simply need to visit the Media Marketing, Inc. Facebook page, https://www.facebook.com/pages/Media-Marketing-Inc/271022269630176?ref=hl, click on the Free Giveaway, then "Like" Media Marketing, Inc. and fill out an entry form with your email address and some basic information. Once the submission form is complete, the Media Marketing, Inc. Facebook fans will be registered to win.
For more information about Media Marketing, Inc. and the monthly giveaways, contact them at 340-774-0920 or visit their website.