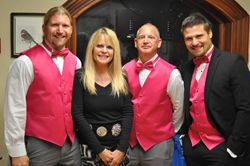 "If we can predict why women get breast cancer, we can prevent it," said Brown.
Kettering, Ohio (PRWEB) June 02, 2015
The Women's Health Initiatives Foundation (WHIF), with offices in Kettering and Mason, Ohio, has added two members to its advisory board.
WHIF executive director Kelly Brown said the nonprofit organization is expanding its board in order to grow its central Ohio community profile and increase resources needed to accomplish its mission of breast cancer prevention through research and education.
New board members are Melinda Zemper of West Chester and Valerie Schenk-Greil of Tipp City.
Zemper is president of Oak Tree Communications, a public relations and professional writing firm. She is a member of the Better Business Bureau of Cincinnati, the West Chester/Liberty Chamber Alliance and a board member of the National Voice of America Museum of Broadcasting.
"Eighty-five percent of breast cancer cases affect men and women with no genetic or family history of breast cancer," said Zemper. "Clearly, there is a great need for research to determine exactly why we are so vulnerable to this disease."
Schenk-Greil has been a psychotherapist in private practice in Tipp City since 2013.
"Women are constantly giving to others and working to meet their family's needs, so much so that their own health needs often go unnoticed," said Schenk-Greil. "WHIF wants to ensure that we, our mothers, grandmothers, daughters and grand-daughters of the future live long, healthy lives. Testing and treatment must be pro-active and WHIF is leading the way by working to prevent breast cancer."
"Both women will bring great energy to the board and help us reach out to supporters in greater Cincinnati and the northern Miami Valley," said Brown. "We are trying to raise $100,000 to fund research that will identify the estrogen biomarkers in women which indicate who may get breast cancer. After the biomarkers are identified, women can work with their doctors to determine preventative tactics and treatment."
WHIF's current advisory board was established in December of 2013 and consists of five other members:
Robin Moon of Waynesville, marketing and advertising professional in Waynesville and Atlanta, where she heads marketing for the Georgia Renaissance Festival; Teri Hartrum of Bellbrook, senior vice president of strategic development for WellKey Nutrition; Andy Franks of Columbus, account executive with Ortho Molecular Products; Lyn Hogrefe, CEO of Happy Hormone Cottage; and Eric Blosser, of Washington Township, sales manager for JAH Pharmacies in Piqua.
"WHIF would like to thank its current and new board members for their commitment and support of research in the field of breast cancer prevention," said Brown. "If we can predict why women get breast cancer, we can prevent it."
Nearly 40,000 women in the U.S. will die of breast cancer this year and about 300,000 will be diagnosed with the disease, according to national statistics.
The organization plans its second annual fundraiser on Saturday, Oct. 3 at the Centerville-Washington Township Recreation Center West in Centerville, Ohio.
The WHIF office in Mason is located at 6860 Tylersville Rd, Suite 10. The Kettering WHIF office is at 5450 Far Hills Ave. in Kettering. Both offices are open by appointment.
For more information about WHIF, to donate or to have Brown speak to a community organization about the foundation, contact her at Kelly(at)womenshealthinitiatives(dot)org or call (937) 371-4838.
###
About the Women's Health Initiatives Foundation:
The Women's Health Initiatives Foundation is a nonprofit organization dedicated to the prevention of breast cancer through research and education.
Contact:
Kelly Brown
Executive Director
Email: Kelly(at)womenshealthinitiatives(dot)org
Phone: (937) 371-4838