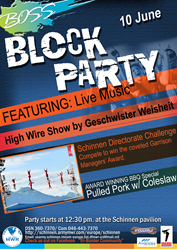 Suitland, Maryland (PRWEB) June 02, 2015
Andrews Federal Credit Union and US Army Morale, Welfare, Recreation (MWR) will be sponsoring a free Summer Block Party for all Tri-Border community members. This event is in collaboration with Safety Stand Down Day, and is free and open to all Tri-Border Community members.
The event will be held June 10 at the Schinnen Pavilion from Noon to 4 PM. Guests will enjoy a high wire show by Geschwister Weisheit, live music and award-winning BBQ. Participation in the Schinnen Directorate Challenge to win the coveted Garrison Manager's Award is highly encouraged.
"Andrews Federal is proud to sponsor this event for the men and women that have devoted their lives in service to this country and their families, as well as for the civilian members who have made invaluable contributions to the upkeep of our service members," said James Niba, Schinnen Branch Manager.
About Andrews Federal Credit Union
Andrews Federal Credit Union was founded in 1948 to serve the needs of military and civilian personnel by providing a vast array of financial products and services. With over $1 billion in assets, Andrews Federal has grown to serve more than 113,000 members in the District of Columbia, Joint Base Andrews (MD), Springfield (VA), Joint Base McGuire-Dix-Lakehurst (NJ), and military installations in central Germany, Hainerberg, Belgium, and the Netherlands. In addition, the Credit Union serves as a financial partner with many select employee groups in Maryland, the District of Columbia, and New Jersey.
To learn more about Andrews Federal Credit Union and its community involvement, or to become a member, call 800.487.5500 or visit http://www.andrewsfcu.org.