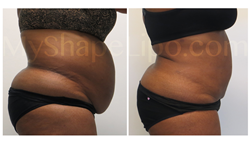 While her results are amazing, they are not uncommon for our patients.
Las Vegas, NV (PRWEB) May 29, 2015
The American Society for Aesthetic Plastic Surgery (ASAPS) released it's statistics showing liposuction as the most popular cosmetic procedure in the US. As a liposuction specialty clinic located in Las Vegas, MyShape Lipo is taking full advantage of the rising popularity of liposuction.
MyShape Lipo is among a handful of clinics in the country that have specialized specifically on liposuction and because of this, they were featured on the FOX 5 "More Show." In the feature, Trevor Schmidt PA-C, the owner and liposuction specialist reveals one of his many successes in patient Denise Reddix.
Denise experienced life changing results with an 11 inch reduction in her waist after a single liposuction procedure. She had struggled her whole life trying to keep the weight off with countless diet and exercise programs that never seemed to work for her.
"I just decided one day, I've had enough and it was time to get some help to get rid of this belly," says Denise. "I was so tired of people asking if I was pregnant, that gets old real quick."
At MyShape Lipo, large volume liposuction is the norm as many of their patients tend to be fairly large and require large amounts of fat removed. In fact, they can remove as much as 5 liters of fat in a single procedure. To put this in perspective, that is equivalent to 2 1/2, two liter bottles of soda.
"I'm so happy for Denise, I love seeing these amazing body transformations and how they affect their confidence," says Trevor Schmidt PA-C. "While her results are amazing, they are not uncommon for our patients."
Liposuction has changed dramatically over the years. The procedure can now be done completely under local anesthesia, while the patient is awake. This completely eliminates the high risk and cost of general anesthesia.
As a result the prices are much more affordable and the recovery is as short as 1-3 days off of work. In fact per their statistics, 42.5% of their patients are able to return to work the next day after their procedure.
"Because we are so aggressive, many of our larger patients are able to completely avoid a tummy tuck," says Schmidt. "The skin tends to retract back quite nicely once all the heavy fat is removed.
About MyShape Lipo
Located in Las Vegas, MyShape Lipo is a specialty liposuction clinic who attracts patients from around the world. Trevor Schmidt PA-C, the liposuction specialist has the experience of over 15,000 liposuction procedures on all shapes and sizes. All of their procedures are completed with local anesthesia for a safer more cost effective procedure. They offer complimentary "Body Shape Analysis" in person for locals or via the phone for their out of state patients. Call now to schedule yours, 702-818-5476.