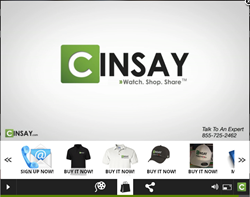 We've gone from just passively watching video to being able to personalize our experience with two-way interactions of liking, sharing, buying, donating, registering for events and much more.
Austin, TX (PRWEB) May 28, 2015
Cinsay, Inc., the world leader in social video ecommerce, and Aunt Chilada's, a Phoenix-based, 650-seat, destination restaurant, reported huge success from a video marketing campaign to promote and sell tickets for the restaurant's annual Cinco de Mayo event resulting in an unprecedented 21% conversion rate inside the video as compared to an average conversion rate of just 2% to 4% for traditional marketing.
"It was an amazing campaign and we were extremely pleased with the outcome," said Ken Nagel, owner of Aunt Chilada's. The campaign ran for just a week but with social media promotions and shares of the video from their website and email and also shared inside Facebook and Twitter, the event practically sold out before May 5th. Just under a thousand impressions and 466 product views later, the result was a spectacular sales outcome for the restaurant, which had never used interactive video before to promote or sell tickets.
Viewers of the promotional video were able to instantly click on the 'Buy Now' tab and purchase the selected number of tickets and then simply 'check out' – all inside the video player and without having to link-out to another app or website. The transactions were 100% completely captured inside the Cinsay video player - outside and inside social media; something merchants can't do with either Vimeo or YouTube.
"Cinsay's interactive video player is enjoying tremendous success as people around the world become accustomed to interacting with elements inside a streaming video. We've gone from just passively watching video to being able to personalize our experience with two-way interactions of liking, sharing, buying, donating, registering for events and much more. This is definitely the way of the future for archived and live video over the web and on mobile and Cinsay is leading the way worldwide", said Christian Briggs, founder and CEO of Cinsay.
Cinsay's core technology is based on a web and mobile shareable interactive video platform that can be used by anyone – anywhere, to market, generate leads, increase sales and leverage video, unlike any other technology on the market today. Recently added components to Cinsay's video include streaming unlimited LIVE content and transacting directly inside any LIVE video stream.
Cinsay also features additional payment gateways like China's TenPay and AliPay coming later this summer. By adding additional merchant gateways in its video platform, Cinsay now has the ability to take expanded ecommerce payments inside China's most popular social networks along with embedding and transacting on twenty-plus other social sites around the world including Latin America.
Additional key elements include Cinsay's multi-patented product placement or 'hot spotting' technology which, enables any brand or, merchandising licensee, film studios, content holders and even restaurants and merchants to seamlessly tag images and items in the video that can be clicked on by viewers to trigger any type of interaction including, ecommerce.
Cinsay's LIVE streaming is already being utilized for retailers like QVC where a live YouTube stream is imported into the player where it is then matched with merchandise, social media and relevant offers. Now, anyone can take a favorite shopping channel along and have the ability to shop in real time, wherever they go.
Cinsay's client base actively serves a growing customer base of content providers ranging from movie studios, musicians, entertainment venues, and sports franchises to independent small businesses, big brands and Network Marketing companies. Sales of Cinsay's platform come from various channels including Yahoo Small Business.
Recently, the company also added web business services to help merchants market and promote their online stores as well as design and host entire ecommerce sites like ShopAndretti.com, ShopRisi.com, ShopMarioA.com and ShopStrokersDallas.com.
Its branded apparel division, Cinsay On Demand is the perfect match for restaurants and businesses for adding branded merchandise and apparel. Cinsay On Demand provides anyone with the ability to sell directly to consumers, eliminating the need for wholesale in the supply chain. Merchandise and apparel are produced 'on demand' as orders come in via the video store, creating the ultimate 'just in time' inventory control, which then ships directly to customers and provides a new revenue stream for businesses.
As for Aunt Chilada's, they are also using Cinsay On Demand to create, make and fulfill featured and branded merchandise inside their restaurant's videos.
Additionally, the restaurant is producing a reality show based on storylines of the owners, staff and patrons of the restaurant. They recently used Cinsay's video player to promote the reality project on social media and local press and ended up with a restaurant full of guests eager to be part of the reality show.
"We're looking forward to finding more marketing and event projects where we can use the Cinsay player. I think we've just scratched the surface on the possibilities of what we can do together!" added Nagel.
For more information about Cinsay and how businesses and organizations are discovering increased views and conversion rates, call 855-725-2462 or visit http://www.Cinsay.com and speak with an expert.
About Cinsay
Cinsay has developed the world's first, multi-patented shareable, marketing and ecommerce video platform. Built to be viewer and socially interactive, Cinsay's shoppable platform is designed to drive significantly higher traffic and views for any type of business. Cinsay's syndicatable technology enables anyone to market and promote services, sell products, accept donations and political contributions all inside its multi-patented video player platform. The technology also allows for archived or live video and provides in-depth analytics on views, shares, and transactions. Additional statistics include demographics as well as consumer buying patterns. Cinsay hosts exclusive content and shopping channels for sports, music and movies aligned with partners including Andretti Autosport, Risi Competizione, Suretone Entertainment and Strokers Dallas. The company is also a software provider to SMBs via Yahoo's Commerce Central.
Forbes named Cinsay one of "America's Most Promising Companies" while eTail Conferences named Cinsay a "Rising Star in innovation" for 2012. Red Herring also selected Cinsay for the "Top 100 Companies in North America" for 2014. For more information, please visit http://www.cinsay.com or call 855-725-2462.
One or more of the following patents may protect Cinsay's software, systems, and/or services. U.S. Patent Nos.7,840,415; 7,987,098; 8,769,053; 8,782,690; 8,813,132; 8,312,486; 8,533,753; and 8,549,555.