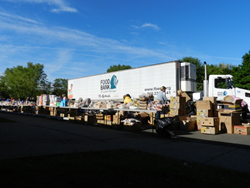 I want to challenge other Flint area companies to get involved. The benefit to local families and to your volunteer team is immeasurable; contact Companies Feeding Families and sponsor a food distribution in 2015. -Frank Farmer, AMR President
Flint, Michigan (PRWEB) May 29, 2015
This spring, American Metal Roofs (AMR) of Flint, Michigan helped to feed 300 families in need through a powerful community program called Companies Feeding Families.
Companies Feeding Families is coordinated by Flushing Community Church, a licensed agent of the Food Bank of Eastern Michigan. They help coordinate mobile food distributions in neighborhoods where local need is greatest.
As a sponsor of this program, American Metal Roofs purchased a truckload of food and participated in the distribution of food to hundreds of people.
The distribution team, comprised of AMR owner Frank Farmer and 20 employees, set up tables in the distribution area, unpacked pallets of food, sorted food, distributed food to attendees as they moved through the distribution line, and participated in tear-down and clean-up.
"Companies Feeding Families makes it so easy for us to impact the Flint area. Our dollars invested go farther to actually help local families than with any other food distribution program I know. I want to challenge other Flint area companies to get involved. The benefit to local families and to your volunteer team is immeasurable; contact Companies Feeding Families and sponsor a food distribution in 2015. We hear a lot about companies giving back to the community; Companies Feeding Families can help you do just that and they can work with just about any donation level." -Frank Farmer, AMR President
About Companies Feeding Families:
By providing a turnkey program for truckload food distribution, Companies Feeding Families provides local businesses with the opportunity to impact their communities in a very important way.
Learn more: https://www.youtube.com/watch?v=RjFH4pTnMtk
About American Metal Roofs:
American Metal Roofs provides residential and commercial metal roofing products and services for the Michigan Lower Peninsula. American Metal Roofs specializes in installing metal roofing from the leading manufacturers of permanent metal roofing.