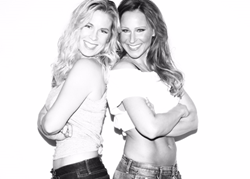 Our foundation is having varieties across all fitness disciplines, so we can create a one-stop-shop.
Edina, MN (PRWEB) May 28, 2015
A new approach to discovering and embracing a healthy, fit and emotionally balanced life is being announced today that will offer women and men an inviting and comfortable workout space unlike any available in the Twin Cities.
Physical Culture(v) has the broadest range of wellness classes anywhere in the Minneapolis-St. Paul area, bringing clients the opportunity to improve fitness, health and mental well-being in a boutique setting in Edina, said co-founders and friends Joy Himley and Angie Bartness.
"There are so many people who are hungry for this," Bartness said. "Anyone can work out -- and working out is a big part of this -- but if you are not eating correctly, if your life isn't in order, all your effort can be wasted."
Physical Culture(v) offers personally tailored instruction in two roomy studios with a great variety to choose from, whether it's cardio-intense HIIT sessions, suspension training with TRX, advanced yoga or various types of barre (fitness postures inspired by ballet).
One-on-one coaching also is available from experienced fitness trainers and life coaches who are considered among the best the Twin Cities has to offer.
"Our foundation is having variety across all fitness disciplines, so we can create a one-stop shop," said Himley, a fitness expert and health and wellness coach. "We have every kind of class you can imagine."
Bartness said that she and Himley believe many people are tiring of the larger franchise venues, where competing for a parking spot and machines at all hours is sapping the enthusiasm for staying fit.
"People are sick of the tension of just getting to the fitness center and then the impersonal, vast atmosphere," said Bartness, a personal trainer and health and wellness coach. "We believe this boutique style encompasses it all in a more intimate space, where you can mix up your workouts. Now you don't have to have five different memberships."
While enthusiastic about every type of fitness class being offered, Himley sounded particularly passionate about HIIT, a workout she molded into a rapid-fire session that combines strength, conditioning and cardiovascular endurance.
"HIIT is set up for only 50 minutes because that is all that's needed," she said. "The great thing is that any level can do it. It's just a matter of decreasing your weights or not, or taking out jumps or not. It burns fat all day, more than running or spinning. It's a great way to get your cardio workout in and protect your joints on our rubber flooring.
"You get your sweat on, you are done in 50 minutes, then get your shower right here and be on your way."
Physical Culture(v) is located at 4508 Valley View Road in Edina, just a bit east of Highway 100 and north of Highway 62. There's plenty of parking within steps of the door. A limited number of founding memberships for men and women are being accepted until June 8.
"We are helping people with their entire lives," Bartness said, "right down to the nitty-gritty of what makes them healthier on a deeper level."
About Us:
Physical Culture(v)'s mission is to combine various cutting-edge fitness classes all in one location. Clients can vary their choices in workouts without needing to belong to numerous fitness facilities. Co-founders Angie Bartness and Joy Himley have created a culture of health by combining these physically rewarding classes with one-of-a-kind instructors, and personal training and health and wellness coaching. We promote and encourage not only fitness but well-being in all facets of life. Learn more at: http://physicalculturev.com.
# # #