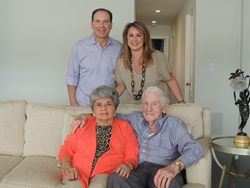 New York, NY (PRWEB) May 29, 2015
On Thursday, June 4th, hundreds of guests will gather at the Museum of The City of New York for DOROT's 39th Annual Spring Benefit, honoring Lainie Kaye and Brett Kaplan & Rita and Phil Kaye. The event will also recognize the graduating seniors of Next Generation, DOROT's teen leadership board.
At the event, guests will be able to enjoy a private after-hour viewing of some of the museum's most popular exhibits, as well as a capella musical performances.
About the Honorees
The Kaye/Kaplan family has been a supporter of DOROT for over 15 years. In 1999, Lainie Kaye, a Managing Director in Deutsche Bank's Commercial Real Estate Securitization Group, was looking for a meaningful way to spend some of her free time. Lainie lived a block away from DOROT and was immediately drawn to the organization. Her own grandmother had received weekly visitations from a volunteer in Palm Beach, Florida. The weekly visits had meant so much to Lainie's grandmother and to her whole family.
"Nana Rae loved him," Lainie said "This socialization was especially vital to her quality of life in her last years. I wanted to do the same for someone who was isolated."
After learning about DOROT and its mission, Lainie immediately offered her assistance at the Annual Thanksgiving Banquet. Lainie noted, "Everyone had one goal – to enhance the lives of frail and disconnected elderly." From that moment, Lainie was hooked and has never missed a Thanksgiving Banquet.
Lainie also participated in DOROT's Friendly Visiting program so that she could help to relieve a senior's social isolation, just as someone had helped relieve her grandmother's. She became a Friendly Visitor to a widowed Holocaust survivor, a close relationship that lasted until the woman's death seven years later. In 2003, she joined the DOROT Board, focusing her efforts on corporate fundraising and special events. She has participated in many Holiday Package Deliveries with her husband, Brett Kaplan, and their sons Ross and Andrew.
Brett sees their involvement as beneficial for everyone. "Our boys are fortunate to grow up in comfortable circumstances," he says. "It's important for them to stay grounded, to learn that there are more important things in life, like giving of themselves."
Lainie's parents, Rita and Phil Kaye, moved to Manhattan seven years ago and added another layer of family volunteers. According to Rita, they found the Thanksgiving celebration "inspiring and most fulfilling." Every year, all three generations host a table, setting up, serving and making their guests feel welcome.
As the Kaye/Kaplan clan continues their intergenerational commitment to enhancing the lives of elders through volunteerism and philanthropy, DOROT could not be prouder to honor them at its 39th Annual Spring Benefit.
For more information about DOROT and the 39th Annual Spring Benefit, please visit http://www.dorotusa.org.
DOROT is a social services agency that alleviates social isolation among the elderly and provides services to help them live independently as valued members of the community. DOROT serves the Jewish and wider community, bringing the generations together in a mutually beneficial partnership of elders, volunteers and professionals. All proceeds from the 39th Annual Spring Benefit will go towards accomplishing this goal.