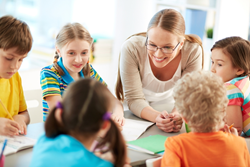 it's important for parents to give their children's needs just as much attention during the corporate relocation process as their own.
HAMPTON, N.H. (PRWEB) June 01, 2015
Professionals who are moving due to a corporate relocation are sure to face challenges as they adapt to a new environment. This process only becomes more complicated when parents are relocating with children who need to go to school.
Selecting a school in a new area isn't a decision that should be made overnight, as where and how students learn could have a profound impact on the rest of their academic and professional lives. Here are a few things parents should be aware of before choosing a school for their children.
Has your state adopted the Common Core State Standards?
K-12 education has changed significantly since parents' days in the classroom. Today, it's not uncommon to see young students using tablet computers at their desks or learning according to more rigorous academic guidelines, such as the Common Core State Standards (CCSS).
Overseen by the National Governors Association Center for Best Practices and the Council of Chief State School Officers, the CCSS define learning goals in English language arts/literacy and mathematics that every student should meet upon the completion of each grade. While the standards are designed to raise the quality of education in the U.S., not every American is a fan of the Common Core, due in part to confusion regarding the initiative's creation and purpose. For example, there are those who believe the CCSS were created by the government and tell educators how to teach - neither is true, according to the Common Core's website.
What is true is that 43 of the 50 states have adopted the CCSS, with Alaska, Indiana, Nebraska, Oklahoma, Tennessee, Texas and Virginia choosing to develop their own high standards. As a result, relocating parents need to know how they, and the educators in their new area, feel about the CCSS.
How smart is your state?
Students' study habits certainly have an impact on their grades, but the overall quality of their school system can also influence how well they learn. That's why it's so important for parents to be aware of their state's academic reputation.
Taking into consideration such factors as "K-12 achievement" and "chance for success," Education Week was able to give each of the 50 states a letter grade for the quality of education they provide. Massachusetts came out on top with a "B," with New Jersey and Maryland close behind with the same grade, according to the Education Week Research Center's findings. Connecticut, Minnesota, New Hampshire, New York, Pennsylvania, Vermont and Wyoming were also in the "B" range.
With a "D" grade, Mississippi was on the opposite end of the spectrum in last place. Nevada, New Mexico, Oklahoma, Arizona, Idaho, Alabama, Louisiana, South Carolina and California also landed in the "D" range. Overall, the U.S. received an average grade of a "C."
While the CCSS are designed to standardize education across the U.S., Education Week's grades show that currently, all states are not created equal when it comes to academic instruction.
Which is better - private or public?
This isn't so much a question as which is better, as which is better for a child? Of course, the immediate difference between attending public and private schools is that parents have to pay tuition to send their children to the latter. However, there is so much more to consider, from the number of extracurricular activities available to the diversity of the student body.
One thing relocating parents need to consider is how well their children will do in a new academic setting. If a child is outgoing and makes friends easily, he or she may do well in a public school, which is known to have larger class sizes. A student who is more on the shy side could benefit more from a private school setting, where pupils tend to receive more individualized attention.
Furthermore, if parents have relocated to a state that isn't known to have the best education system, choosing the private school option may be more appealing. Unlike public institutions, private schools charge tuition and aren't beholden to state funding.
Parents must be proactive
With so much at stake, it's important for parents to give their children's needs just as much attention during the corporate relocation process as their own. Long before families move into a new home, they can conduct research on the Internet about schools in their new area.
The U.S. Department of Education advises parents surveying schools for their children to pay particular attention to four areas:
1. Teachers and principals
2. Student engagement
3. Spending
4. Family programs
Upon moving to a new area, parents can visit schools, which provides an opportunity to explore facilities and speak to faculty. In addition, professionals may be able to direct academic questions to their new neighbors.
Perhaps the ultimate lesson to be learned here is, when it comes to giving their children the best education experience possible, parents would be wise to do their homework.
About MSI
The Global Talent Mobility Company®
MSI – the leading provider of global talent solutions to corporations worldwide. Through the alignment of our global mobility solutions (including global compensation and immigration services), talent management capabilities, and global expansion services, we enable companies to grow, compete, and globalize by helping them strategically develop, mobilize, and retain their talent.
Winner of HRO Today Magazine's "Baker's Dozen Customer Satisfaction Ratings: Relocation – 2015"
Contact:
Nick Royle – Vice President, Marketing & Communications
MSI – Mobility Services International
+1.603.274.9100