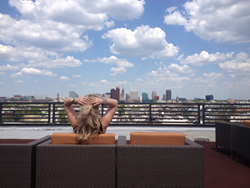 I found my heaven at 2 East Wells. The courtyard and the views from the rooftop decks are to die for!
Baltimore, Maryland (PRWEB) May 29, 2015
The south end of Charles Street has a completely new look and feel thanks to a newly constructed apartment community. 2 East Wells apartments in Federal Hill have brought 153 industrial-chic apartments and 6,000 square feet of retail space to what was once the site of a rather unattractive warehouse and office building.
2 East Wells' exterior is clean and modern and gives the look of multiple buildings through the use of several different types of material. The first floor adds much needed retail space to the area and features glass fronts. There have also been modifications to the perimeter of the building including streetscape improvements, widening of existing alleyways, and the creation of additional neighborhood parking. 2 East Wells has drastically improved the look and feel of the area.
"We are extremely pleased with the improvements to the look of the area, the wider alleys, and the additional parking. The area looks brand new and we just love it", said a Federal Hill resident and neighbor of 2 East Wells.
The apartment homes at 2 East Wells are light-filled with spacious floor plans and offer a mix of Studio, 1 and 2 bedroom options. The finishes include hardwood floors, granite counters, clean steel appliances, wood cabinetry and each apartment home features a full-size washer and dryer. Standard 9 foot ceilings and oversized wall to wall windows maximize some of the most spectacular views the city has to offer.
2 East Wells' modern interior design combines a backdrop of industrial materials with bright colorful furniture and accessories. There are multiple amenity spaces on multiple floors throughout the building including, two rooftop decks, a state-of-the-art rooftop fitness center, a furnished interior courtyard, and a resident's club with coffee bar, fireplace, big screen TVs, and free WiFi. Each space has a different look and feel but has an overall industrial-chic design aspect that provides a unique feeling unlike any other apartment community in the Baltimore area.
One of 2 East Wells' first residents said, "I found my heaven at 2 East Wells. I just moved to Baltimore for new job about a month ago and was a little nervous about finding the right place to live in a new city, but I found my peace and comfort here. I was looking for safe, peaceful, clean and sunny apartment and that's exactly what I got at 2 East Wells. It's close enough to downtown but away from the craziness of it. The courtyard and views from the rooftop decks are to die for! "
What's even more impressive about 2 East Wells is that in recognition of today's environmental sensibilities, the community was built to LEED standards. LEED stands for Leadership in Energy and Environmental Design and is an internationally recognized green building certification system developed by the U.S. Green Building Council (USGBC). In order to be certified, the community must achieve standards for high efficiency heating and cooling systems, energy efficient appliances, high efficiency hot water heating, energy efficient lighting, and indoor environment quality, just to name a few. Recently, 2 East Wells was awarded LEED Gold certification which is one of the highest levels of green building certification offered by the USGBC.
The apartment homes at 2 East Wells are leasing quickly and interest in the community has been extremely high. If the current popularity is any indication of how quickly the community will fully lease, the remaining apartment homes are not likely to last long. For more information about 2 East Wells apartments in Federal hill, contact the leasing office at 410.685.7500 or visit the community's website at http://www.2eastwells.com.