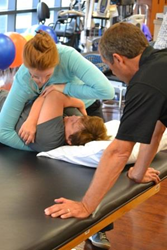 really loved learning about all the evidence
Louisville, KY (PRWEB) May 29, 2015
The NeuroRecovery Training Institute (NeuroRTI), created to promote the culture of evidence-based practice (EBP) within the neurologic physical therapy profession, is excited to host Manual Therapy Interventions for the Neurologic Patient at Frazier Rehab Institute in Louisville, KY. This weekend course will be instructed by Drs. Tim Flynn, PT, PhD, OCS, FAAOMPT and Craig Fox, PT, DPT, NCS, CSCS. Dr. Flynn is board certified in Orthopaedic Physical Therapy (OCS), a Fellow of the American Academy of Orthopaedic Manual Physical Therapists (FAAOMPT), and a frequent presenter at state, national, and international meetings. Dr. Fox is board certified in Neurologic Physical Therapy (NCS) and has worked as a clinical mentor in the Neurologic Residency Programs for UF Health and NeuroRTI. Currently, Dr. Fox is a faculty member for NeuroRTI's Residency Program, an Assistant Professor for South College's DPT Program, and a clinical faculty member at the University of Florida.
The course is designed to improve the participant's understanding and application of common musculoskeletal disorders in the primary neurologically involved client. Topics covered include performing neuromuscular, manual therapy (mobilization/manipulation) techniques, and exercise to common musculoskeletal dysfunction, identifying gait abnormalities and compensatory strategies in a patient post-stroke, the use of FES for sensory and motor recovery, and designing a home exercise program and how to incorporate functional training into a therapy session. The goal of the course is to develop a high level of competency in management of the musculoskeletal system in this patient population.
"I found the course very interesting and really loved learning about all the evidence that went with it," states a 2014 course participant. "The presenters are extremely knowledgeable and presented all the information clearly. The homework also helped to guide my thinking."
Receive $50 off by registering before June 15th.
Click here to register for the course.
For more information about the NeuroRecovery Training Institute's post-professional educational programs please visit http://www.neurorti.com.
About The NeuroRecovery Training Institute:
The NeuroRecovery Training Institute (NeuroRTI) is on a mission to create and promote a culture of evidence-based practice (EBP) within the neurologic physical therapy profession. Through transformational education efforts, NeuroRTI has created a full continuum of neurologic training programs beginning with a large nationally-scaled physical therapy Neuro Residency, Certification, Postprofessional DPT, and online Continuing Education (CE) course work that will include various topics in the treatment of spinal cord dysfunction, acquired brain injury, and other neurologic disorders. A course on the Pediatric Neuromuscular Recovery Scale, a cutting edge outcomes tool will be released Fall 2015.